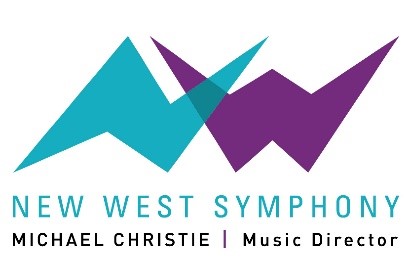 NEW WEST SYMPHONY 
awarded two grants from 
California Arts Council Grant Funds
for
Arts Education-Exposure & Creative Youth Development
FOR IMMEDIATE RELEASE: January 6th, 2023
Eileen Roberts
ERoberts@NewWestSymphony.org
626-826-8253
Thousand Oaks, CA – New West Symphony announces they are the recipient of the California Arts Council second of grant awards for 2022, with funds for Cycle B.  Cycle B's programs include five funding opportunities for arts education and creative youth development, and related arts workforce development. The California Arts Council voted to award New West Symphony two grants; the Arts Education – Exposure program grant, and the Creative Youth Development program grant.  
 Symphonic Adventures, the New West Symphony program that introduces theatrical orchestral performances geared toward 3rd, 4th, and 5th grade students through concerts, providing musical education components that follow the California Education Standards in Music received a $54,000 Arts Education – Exposure program grant.  
 New West Symphony's Laby Harmony Project which provides tuition-free music instruction to 160+ children from 8 different schools in Ventura County and aims to develop lifelong social and musical skills in children from under-resourced and historically excluded communities by creating equitable access to music opportunities was awarded a $38,000 Creative Youth Development program grant.  
 "The resilience and creativity of California's arts and cultural field in these last three years has been remarkable," says California Arts Council Director Jonathan Moscone. "We are proud to be able to support the great work that California's artists, culture bearers and cultural workers are doing within our communities as an indelible part of our state's identity." 
"We are extremely honored and grateful to be acknowledged for our educational programs and efforts by the prestigious California Arts Council," says New West Symphony CEO Natalia Staneva. "We have, and will continue to work tirelessly in support of music and the arts in our local communities, providing opportunities and access to underserved students for music education and our performance experiences." 
New West Symphony recently launched their 28th season in December, 2022. Their next concerts January 28th in Thousand Oaks and January 29th in Camarillo exemplify why they were awarded these grants. They will present two up-and-coming artists who have exploded onto the classical music landscape; international award-winning Venezuelan conductor Enluis Montes Olivar will take the podium as guest conductor for both concerts, and Ifetayo Ali-Landing will be the guest artist cellist.  
Enluis Montes Olivar began his training in Venezuela in the prestigious El Sistema, a program similar to New West Symphony's Laby Harmony Project. He began conducting at age 11, and last year at age 25 recently won 2 international conducting awards. Ifetayo Ali-Landing was born into a family of musicians and was a child prodigy cellist. She has studied for 15 years.  At age 19, she is already an award winning cellist, performing with numerous orchestras across the United States. 
Both Enluis Montes Olivar and Ifetayo Ali-Landing will participate in rehearsals and engage with New West Symphony's Laby Harmony Project students as part of their January engagement.
In their continued support of access to concerts for young people, New West Symphony offers student tickets for $10.
Further information for Symphonic Adventures – https://newwestsymphony.org/music-education/symphonic-adventures/ 
Further information for the Laby Harmony Project – https://newwestsymphony.org/music-education/laby-harmony-project/  
For more information regarding New West Symphony – https://newwestsymphony.org/ 
About the New West Symphony  
Now in its 28th season, the New West Symphony draws its players from the rich talent pool of professional accomplished Los Angeles-area musicians.  During this season, New West Symphony will present programs ranging from GRAMMY®Award-winning composer Mason Bates' orchestra concerto with animated/live action film, to Beethoven's beloved Symphony No. 5. The season features New West Symphony performances of works by Mozart, Dave and Chris Brubeck's Ansel Adams: America, Berlioz's Symphony Fantastique, Tchaikovsky's Variations on a Rococo Theme, and guest artists such as Two-time Tony nominee Laura Osnes, Van Cliburn International Medal Winner, pianist Sean Chen, award-winning Dudamel protégé, conductor Enluis Montes Olivar, and acclaimed cellist Ifetayo Ali-Landing. 
About Michael Christie 
Named Artistic and Music Director of the New West Symphony in December 2018, GRAMMY® Award-winning conductor Michael Christie is a thoughtfully innovative conductor, equally at home in the symphonic and opera worlds, who is focused on making the audience experience at his performances entertaining, enlightening, and enriching. Deeply committed to bringing new works to life, he has championed commissions by leading and emerging composers alike. 
Christie has served as Music Director of the Phoenix Symphony (2005-2013) and Brooklyn Philharmonic (2005-2010), and as Chief Conductor of the Queensland Orchestra (2001-2004) in Australia. He has also guest conducted the Los Angeles Philharmonic, National Symphony Orchestra, Civic Orchestra of Chicago, Rochester Philharmonic Orchestra, Rhode Island Philharmonic, and the Symphonies of Dallas, St. Louis, Atlanta, Houston, Minnesota, Oregon, Indianapolis, Cincinnati, and Santa Rosa. European engagements have included leading the Rotterdam Philharmonic, DSO Berlin, Orchestre National de Lille, Swedish and Netherlands Radio Symphony, City of Birmingham Symphony, NDR Hannover Orchestra and the Czech Philharmonic. Christie also enjoys a strong profile in Australia, where he has conducted the Sydney Symphony, Tasmanian Symphony, Opera Queensland, and the Western Australian Symphony in Perth. 
For further information, visit michaelchristieonline.com and follow him on Facebook, Twitter, Instagram and YouTube. 
###