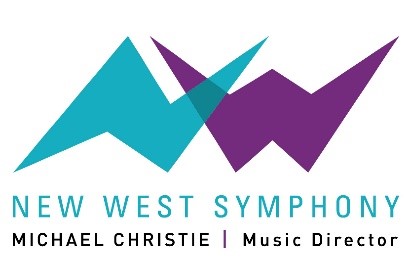 NEW WEST SYMPHONY PRESENTS
Four Seasons
Season Finale From the New West Symphony Presents Highlights and
New Insights Into its Celebrated "Global Sounds, Local Cultures" Season
FOR IMMEDIATE RELEASE:
Eileen Roberts
ERoberts@NewWestSymphony.org
626-826-8253
(Thousand Oaks, CA – January 19, 2022) – As the first live in-person concert of 2022, New West Symphony, led by Artistic and Music Director Michael Christie, Vivaldi's beloved Four Seasons anchors a 75-minute program featuring the symphony with superstar violinist Elena Urioste  Renowned for her sensitive and expressive playing, Urioste has performed with the Los Angeles, New York, and London Philharmonics. The program includes the sonorous Fantasia on a Theme of Thomas Tallis by Ralph Vaughan Williams and Jessie Montgomery's American Folk-influenced Strum.
"I have crafted a performance for this moment; soul-satisfying, grooving, and entertaining. Vivaldi's picturesque Four Seasons delights with its imagination and familiarity. English-master Vaughn Williams envelops and elevates us, and we introduce a new musical expert in Jessie Montgomery, her music gently turns, pulses and surges," says Music Director Christie.
Following on the heels of the orchestra's successful season launch,  Tales of Winter, New West Symphony remains steadfast in its dedication to the community by providing integral and enriching musical experiences, with audience and performer safety at the forefront. Capacity for these two concerts will be limited.
"For the safety of our patrons and that of our performers, the originally scheduled "Our American Roots" program was moved to February. "Four Seasons" allows us to provide increased spacing onstage and mitigates any further disruption to our schedule.
Violinist Elena Urioste was scheduled to perform Korngold's Violin Concerto with us at the end of January, and she has agreed to change her offering to Vivaldi's Four Seasons so all New West musicians can be masked and safely distanced from each other.  New West favorite Philippe Quint will be performing Korngold with us in February," says CEO Natalia Staneva.
With patron's safety and comfort in mind, the programs will be presented without intermission, and proof of vaccination or negative Covid test and masks will be required.
Four Seasons Tickets & Information
Starting at $30  – Click to Purchase
or call 866.776.8400
Program for Four Seasons
RALPH VAUGHN WILLIAMS| "Fantasia on a Theme by Thomas Tallis"
JESSIE MONTGOMERY | "Strum"
VIVALDI | "Four Seasons" – featuring Elena Urioste
Dates & Venues
January 29, 2022, 7:30 pm | Thousand Oaks
Kavli Theatre, Thousand Oaks Civic Arts Center
2100 Thousand Oaks Blvd, Thousand Oaks, CA 91362
January 30, 2022, 3:00 pm | Camarillo
Rancho Campana Performing Arts Center
4235 Mar Vista Dr., Camarillo, CA 93010
###
About the New West Symphony
Now in its 27th season, the New West Symphony draws its players from the rich talent pool of accomplished Los Angeles-area musicians.  During this season, New West Symphony will present programs ranging from the familiar melodies of Hollywood's Silver Screen and the Great American Songbook to the pinnacle of symphonic masterworks, Beethoven's beloved Ninth Symphony. The season features New West Symphony premiere performances of works by four American women composers: Joan Tower's Fanfare for the Uncommon Woman, Jessie Montgomery's Strum, Reena Esmail's Meri Sakhi Ki Avaaz (My Sister's Voice), and a world premiere collaborative performance of Pauline Frechette's Tales of Winter. Among other works are Dvořák's Suite in A Major, "American," Sibelius' Third Symphony; Mozart's "Jupiter" Symphony; and selections from Scott Joplin's Treemonisha as well as music by Vivaldi, Vaughan Williams, Bottesini, and Korngold.
Named Artistic and Music Director of the New West Symphony in December 2018, GRAMMY® Award-winning conductor Michael Christie is a thoughtfully innovative conductor, equally at home in the symphonic and opera worlds, who is focused on making the audience experience at his performances entertaining, enlightening, and enriching. Deeply committed to bringing new works to life, he has championed commissions by leading and emerging composers alike.
Christie has served as Music Director of the Phoenix Symphony (2005-2013) and Brooklyn Philharmonic (2005-2010), and as Chief Conductor of the Queensland Orchestra (2001-2004) in Australia. He has also guest conducted the Los Angeles Philharmonic, National Symphony Orchestra, Civic Orchestra of Chicago, Rochester Philharmonic Orchestra, Rhode Island Philharmonic, and the Symphonies of Dallas, St. Louis, Atlanta, Houston, Minnesota, Oregon, Indianapolis, Cincinnati, and Santa Rosa. European engagements have included leading the Rotterdam Philharmonic, DSO Berlin, Orchestre National de Lille, Swedish and Netherlands Radio Symphony, City of Birmingham Symphony, NDR Hannover Orchestra, and the Czech Philharmonic. Christie also enjoys a strong profile in Australia, where he has conducted the Sydney Symphony, Tasmanian Symphony, Opera Queensland, and the Western Australian Symphony in Perth.
For further information, visit michaelchristieonline.com and follow him on Facebook, Twitter, Instagram, and YouTube.
###