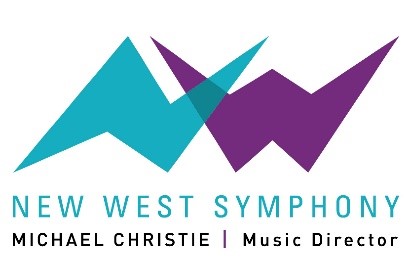 FOR IMMEDIATE RELEASE:
Ross Goldberg
ross@kevinross.net
818-597-8453, x- 1
New West Symphony Receives $95,000 Grant From the
Barbara Barnard Smith Fund for World Musics
Grant Will Support the Symphony's Current Season of "Global Sounds, Local Cultures"
Spotlighting World Music and the Diverse Cultures of Southern California
(THOUSAND OAKS, CA) – January 5, 2021 — The New West Symphony announced today that it has received a $95,000 grant from the Barbara Barnard Smith Fund for World Musics. The grant will help support the symphony's reimagined 2020-21 season spotlighting the music, diverse cultures and strong family traditions found throughout Southern California.
The season of "Global Sounds, Local Cultures" was created in response to ongoing COVID-19 related restrictions and the symphony's strong commitment to keep the beauty and healing power of music alive during these unprecedented times. The season, which began in October and continues through July, features eight mini festivals comprised of digital concerts and engaging complementary content.
Already completed is "A Tour of Japan" and "A Tour of India." On January 31 the NWS will join with the international community to honor the six million Jewish victims and other victims of Nazism with a Holocaust Remembrance Concert, featuring the Jerusalem String Quartet and internationally acclaimed violinist and NWS Concertmaster Alyssa Park.
"Music allows humans to tell stories, share traditions and express our complex emotions," said New West Symphony Artistic and Music Director Michael Christie. "Like a kaleidoscope, as a melody or rhythm is shared, it subtly or dramatically reflects the vibrancy of that time and place. Classical music wouldn't be the same without the global influences that have left their indelible mark on the art form. The New West Symphony's unique season spotlights the vivid cultural influences that have shaped classical music and SoCal itself."
The Barbara Barnard Smith Fund for World Musics was established at the Ventura County Community Foundation in 1992 to enhance understanding of global intercultural and local multicultural environments through expanding acquaintance with artistic heritages beyond those of Euro-American concert traditions.
"We are deeply grateful to the Barbara Barnard Smith Fund for their incredible generosity at a time when all performing arts organizations are trying so hard to keep the doors open and to keep the splendor of the arts alive," said NWS CEO Natalia Staneva. "This gift, along with those of our other season sponsors, donors, subscribers and venue partners including the Ronald Reagan Presidential Library, remind us of the importance music plays in all of our lives and in its restorative power in times such as these."
In addition to the January 31 Holocaust Remembrance Concert, remaining concerts on the season include "A Tour of China" February 28, a "Persian Festival" April 11, "A Tour of Mexico" May 2, "A Tour of South Korea" June 13 and "America the Melting Pot" July 11. A season pass to all six concerts or individual tickets may be purchased at NewWestSymphony.org or by phone at 805-497-5880 or 866-776-8400.
Recently completing its 25th anniversary season, the New West Symphony draws its players from the rich talent pool of accomplished Los Angeles-area musicians. Its mission is to inspire passion for symphonic music through live performances and education initiatives that engage and enrich its diverse audiences. For more information, visit NewWestSymphony.org; or connect on Facebook and Instagram.
# # #