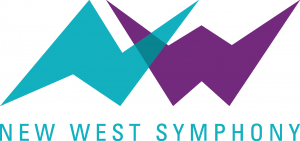 Contact:
Rebecca Roling
rroling@newwestsymphony.org
(805) 469-1496
New West Symphony Music Director Michael Christie Wins GRAMMY® Award for "Best Opera Recording"
 
Live Recording of Contemporary Opera, "The (R)evolution of Steve Jobs" by Mason Bates, conducted by Michael Christie and performed by Santa Fe Opera
[Thousand Oaks, CA – February 11, 2019] – Music Director for New West Symphony, Michael Christie, was awarded a GRAMMY Award for a recording of a live performance he conducted with Santa Fe Opera, the world premiere of contemporary opera, "The (R)evolution of Steve Jobs" about the life of the founder of Apple Computer and inventor of the iPhone. The opera recording, written by Mason Bates with libretto by Mark Campbell, was nominated for 4 total Grammys. This is Maestro Christie's first GRAMMY nomination and first GRAMMY win.
"It was such a thrill to be involved in the creation of a new American opera on such an important American topic, and I'm so proud that the piece, at the earliest point of its life, will be recognized as a great new American opera," said Maestro Christie. "This is great news for new voices and future works to be considered for the Grammys."
Conducting the premiere of a work presents a unique opportunity and responsibility. "Partnering with the composer, to bring the most out of their musical voice, to walk side by side with composers, helps them realize the potential of their piece," said Maestro Christie.
"Our orchestra, board, and staff are thrilled for Michael and this well-deserved win," said Kim Woods, board chair of New West Symphony. "We couldn't be more thrilled to have Michael at the artistic helm of our organization,"
Maestro Christie, music director of New West Symphony, has performed or commissioned dozens of new works by national and international composers, and will continue to be an advocate for bold and interesting new voices as the artistic head of New West Symphony. Maestro Christie will be conducting this work with the San Francisco Opera, which recently announced performances in June, 2020. 
The recording was nominated for "Best Opera Recording," "Best Contemporary Classical Composition," "Best Engineered Album, Classical," and "Producer of the Year, Classical."
In the category of "Best Opera Recording," other nominees were John Adams for "Doctor Atomic," Christophe Rousset nominated for "Alceste," Sebastian Weigle nominated for "Der Rosenkavalier" and Constantine Orbelian nominated for "Rigoletto."
About Michael Christie
Christie joined New West Symphony as Music Director in December, 2018, and will be launching the organization's 25th season in 2019/2020. Christie's conducting career, spanning more than 20 years, has included Minnesota Opera, where Christie led 24 productions over eight years, six seasons as its first-ever Music Director (2012-2018), Music Director of the Phoenix Symphony (2005-2013) and Brooklyn Philharmonic (2005-2010), and as Chief Conductor of the Queensland Orchestra (2001-2004) in Australia, as well as guest appearances leading the Los Angeles Philharmonic, National Symphony Orchestra, Civic Orchestra of Chicago, and Rochester Philharmonic Orchestra. Christie's many European engagements have included leading the Rotterdam Philharmonic, DSO Berlin, Orchestre National de Lille, Swedish and Netherlands Radio Symphony, City of Birmingham Symphony, NDR Hannover Orchestra and the Czech Philharmonic.
Christie lives in the Twin Cities with his wife, Alexis, a physician, and their two children. A licensed pilot for over 15 years, Christie often flies his Mooney Airplane Company single engine aircraft to his conducting engagements across the U.S. He volunteers for Angel Flight Central, flying people in need with serious medical issues to receive care.
​About New West Symphony
The New West Symphony is an esteemed performing arts organization that attracts diverse, capacity audiences to experience and celebrate the transformative power of live symphonic music in Ventura and Los Angeles counties. Led by a visionary music director, Maestro Michael Christie, it serves as a growing hub for music appreciation and education sustained by robust financial support and community resources.
The New West Symphony orchestra includes some of the world's most famous and accomplished musicians. Our tenured orchestra members have appeared as soloists with the finest orchestras, are GRAMMY®-nominated artists themselves, and can be heard on almost any film soundtrack you can imagine, from Jurassic Park and Star Wars to La La Land. New West Symphony performs exceptional music, exceptionally close.
For more information visit https://www.newwestsymphony.org and follow them on Facebook at www.facebook.com/newwestsymphony.
Press Contact: Rebecca Roling, New West Symphony
805.469.1496 | rroling@newwestsymphony.org
#     #     #