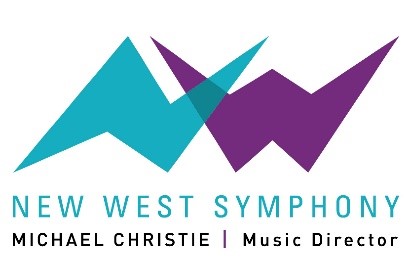 NEW WEST SYMPHONY PRESENTS
FOUNDING MUSIC DIRECTOR
Boris Brott Tribute
Pre-concert Dinner in Thousand Oaks March 4
Symphonie Fantastique concerts March 4 and 5 dedicated in honor of Maestro Brott
Thousand Oaks, CA – New West Symphony honors the passion for innovation and commitment to education of Founding Music Director, Conductor Laureate, and friend Boris Brott. A pre-concert dinner in celebration of the life of Maestro Brott will be presented on March 4th in the Founders Room at Kavli Theatre, Thousand Oaks. Both concerts on March 4th and 5th are in tribute to his memory. Maestro Brott passed away April 5, 2022. In remembrance, New West Symphony will specifically perform Elgar's "Nimrod" from Enigma Variations. 
Boris was an integral part of the Ventura County community beginning in 1992, when he replaced Frank Salazar as the Music Director of Ventura County Symphony. In 1994, Conejo Symphony Orchestra and Ventura County Symphony merged to form New West Symphony as the first and only professional symphony orchestra in Ventura County. Boris served as Music Director for over 15 years and remained Conductor Laureate until 2015. Maestro Brott's outstanding musicianship and unique programming, coupled with the energy and artistic insight he brought to New West Symphony Masterpiece Series concerts, won rave reviews from critic ad audiences alike. He firmly established New West Symphony as one of Southern California's most respected orchestras by building  from the rich pool of talent in the Los Angeles area.  
"The birth of the New West Symphony was a miracle of vision and dedication. It remains a tribute to those of us who saw the potential for an orchestra of highest quality and musical inspiration that bridged Ventura and Los Angeles counties – a great orchestra in our own backyard – and had the fortitude to see that vision to achievement. I salute all of you being honored here today as you gave life to the vision with dollars and your support to see it through. As we look back, it is joyous to remember the magical performances, the opening of hearts and minds with Symphonic Adventures, and the launching of professional music careers through Discovery Artists. Music is ephemeral. Once a note is sounded it remains fleetingly. Therefore, it is vital to continue, to reinvent, to challenge and further the vision. You have all been invested in a trust for the future."  Boris Brott, Written for New West Symphony's 20th Anniversary  
Boris presented over 250 New West Symphony concerts, nurtured young talent through the Discovery Artists program, and introduced more than a 130,000 young people to symphonic music for the first time through Symphony Adventures Concerts. Symphonic Adventures is a 50-minute interactive concert that offers orchestral music to 3rd, 4th, and 5th grade students by introducing them to the orchestra, its conductor, and the elements of music. Under Boris' leadership, the Symphony televised "Meet the Artists" programs, and conducted backstage tours for Front Row Club kids and their parents. Boris was a motivational speaker who ignited passion for classical music in corporate leaders, civic leaders, and the larger community. 
Boris remained active in Canada and internationally throughout his life. He was founder and Musical Director of the Brott Music Festival since 1987; Director of Hamilton's National Academy Orchestra of Canada; Artistic Director and conductor of the classique de Montréal; and directed performances for children with the National Arts Centre Orchestra in Ottawa. He received a multitude of awards and accolades over his lifetime which include: 
Officer of the Order of Canada; Canada's Highest Honor

 

Honorary Doctorate of Law at McMaster University

 

Knight of Malta

 

International Man of the Year, Cambridge England

 

Fellow of the Royal Society of Great Britain

 

American Music Awards

 

City of Hamilton Lifetime Achievement Award

 

Additionally, The Great Hall of First Ontario was renamed the Boris Brott Great Hall. 

 
Tickets to the March 4 dinner at 5:00PM are available to the general public, with the Symphonie Fantastique concert immediately following.
Separate concert tickets are also available. In this performance, the 80-piece New West Symphony will be playing 2023 
GRAMMY®Award-winning Philharmonia Fantastique: The Making of the Orchestra, a 25-minute concerto for orchestra and animated/live action film, featuring the animation of Jim Capobianco (Ratatouille, Mary Poppins Returns) and film directed by seven-time Academy®Award-winning sound designer Gary Rydstrom (Titanic). Philharmonia Fantastique ventures beyond the bounds of classical to bring in elements of jazz and techno. The title itself is a nod to Hector Berlioz's Symphonie Fantastique, which will also be performed. The composition is noted for its expanded orchestration, grander than most for the early 19th century.   
Symphonic Adventures will take place March 7 at 10:AM at Oxnard Performing Arts Center, and March 8 at Bank of America Performing Arts Center, Kavli Theatre. 
"We think the upcoming weeks of February 27th and March 6th which include two Symphonic Adventures concerts, a Meet the Artists event, and two ground-breaking pieces of music in our Symphonie Fantastique concerts would make Boris very happy. It all reflects what Boris believed in; innovation, technology, and education. Boris was bigger than life as is his legacy, and we are so honored to dedicate this all to him," says New West Symphony CEO Natalia Staneva.  
Tributes and donations in honor of Boris in support of the Symphony's education programs can be made on the website.  
Tickets for Boris Brott Tribute Dinner | March 4, 2023, 5:00PM 
$100 per person 
Contact Patricia Jones  805.497.5800 
 —
Symphonie Fantastique Tickets & Information 
Starting at $30 with student tickets at $10 | 866.776.8400 
—
Dates & Venues 
March 4, 2023, 7:30pm | Thousand Oaks 
Kavli Theatre, Thousand Oaks Civic Arts Center  
2100 Thousand Oaks Blvd, Thousand Oaks, CA 91362 
 —
March 5, 2023, 3:00pm | Camarillo 
Rancho Campana Performing Arts Center  
4235 Mar Vista Dr., Camarillo, CA 93010 
 —
Program for Symphonie Fantastique 
EDWARD ELGAR  |  "Nimrod" from Enigma Variations 
MASON BATES |  Philharmonia Fantastique: The Making of the Orchestra   
HECTOR BERLIOZ |  Symphonie Fantastique  
---
About the New West Symphony  
Now in its 28th season, the New West Symphony draws its players from the rich talent pool of professional accomplished Los Angeles-area musicians.  During this season, New West Symphony will present programs ranging from GRAMMY®Award-winning composer Mason Bates' orchestra concerto with animated/live action film, to Beethoven's beloved Symphony No. 5. The season features New West Symphony performances of works by Mozart, Dave and Chris Brubeck's Ansel Adams: America, Berlioz's Symphony Fantastique, Tchaikovsky's Variations on a Rococo Theme, and guest artists such as Two-time Tony nominee Laura Osnes, Van Cliburn International Medal Winner, pianist Sean Chen, award-winning Dudamel protégé, conductor Enluis Montes Olivar, and acclaimed cellist Ifetayo Ali-Landing. 
About Michael Christie 
Named Artistic and Music Director of the New West Symphony in December 2018, GRAMMY® Award-winning conductor Michael Christie is a thoughtfully innovative conductor, equally  
at home in the symphonic and opera worlds, who is focused on making the audience experience at his performances entertaining, enlightening, and enriching. Deeply committed to bringing new works to life, he has championed commissions by leading and emerging composers alike. 
Christie has served as Music Director of the Phoenix Symphony (2005-2013) and Brooklyn Philharmonic (2005-2010), and as Chief Conductor of the Queensland Orchestra (2001-2004) in Australia. He has also guest conducted the Los Angeles Philharmonic, National Symphony Orchestra, Civic Orchestra of Chicago, Rochester Philharmonic Orchestra, Rhode Island Philharmonic, and the Symphonies of Dallas, St. Louis, Atlanta, Houston, Minnesota, Oregon, Indianapolis, Cincinnati, and Santa Rosa. European engagements have included leading the Rotterdam Philharmonic, DSO Berlin,  
Orchestre National de Lille, Swedish and Netherlands Radio Symphony, City of Birmingham Symphony, NDR Hannover Orchestra and the Czech Philharmonic. Christie also enjoys a strong profile in Australia, where he has conducted the Sydney Symphony, Tasmanian Symphony, Opera Queensland, and the Western Australian Symphony in Perth. 
For further information, visit michaelchristieonline.com and follow him on Facebook, Twitter, Instagram and YouTube.