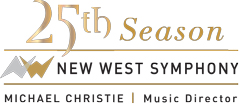 Newbury Park Resident Brian Nelson Elected to
the Board of Directors of the New West Symphony
(THOUSAND OAKS, CA – Feb 10, 2020) — Newbury Park native and resident Brian Nelson has been elected to the board of directors of the New West Symphony.
Nelson is currently vice president at Greif & Company where he focuses on advising middle-market growth companies through a wide range of corporate transactions including mergers and acquisitions, debt and equity capital raises and special situations. Prior to joining Greif & Company, Nelson was a vice president at Guggenheim Securities.  He has also held investment banking positions at Citigroup Global Markets and Focalpoint Partners, working with both large cap and middle-market companies.
"Brian brings to our board a deep love for music and a true passion for wanting to make our communities an even better place to live and raise a family," said Board Chair Kim Woods. "When you combine those personal qualities with his vast experiences of working with many organizations across a wide array of industries, we know that he will be an invaluable member of our board at this most exciting time in our history."
Nelson earned an MBA from the UCLA Anderson School of Management and a bachelor's degree in business economics from Brown University.  Born and raised in Newbury Park, Nelson headed to the east coast for college and to begin a professional career before returning to Newbury Park where he lives today with his wife and two daughters.
About New West Symphony
Celebrating its 25th season, New West Symphony is a professional orchestra that draws its players from the rich talent pool of accomplished Los Angeles-area musicians, performing under artistic direction of GRAMMY® winner Maestro Michael Christie. It presents six Masterpiece Series concerts annually, performing major works from the symphonic repertoire with internationally-acclaimed artists as guest soloists, as the resident company of the Thousand Oaks Civic Arts Plaza and at the Rancho Campana Performing Arts Center. The Symphony aims to enrich and inspire the lives of its community and future generations through live performances and ambitious music education programs including its traveling Music Van, annual Symphonic Adventures youth concert programs, and the Laby Harmony Project, a year-round music and leadership program for underserved students. For more information visit NewWestSymphony.org or connect with us on Facebook and Instagram.
#     #     #