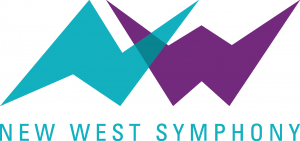 Contact:
Rebecca Madigan
rmadigan@newwestsymphony.org
(805) 469-1496
New West Symphony Announces Music Director, Maestro Michael Christie,
to Lead Symphony's Artistic Vision and Initiate 25th Season

Appointment Made During Surprise Announcement at
Symphony's Reflections Gala on December 7, 2018
Maestro Christie earns 4 GRAMMY® nominations for his recording
of contemporary opera, The (R)evolution of Steve Jobs
 [Thousand Oaks, CA – December 17, 2018] – The New West Symphony Orchestra and Board of Directors are pleased to announce Michael Christie is joining the organization as music director, a role that encompasses artistic vision, musical leadership as conductor, and community advocate for the arts in our community.
The appointment of Maestro Christie was announced by New West Symphony chief executive officer Natalia Staneva, at the Reflections Gala, its annual fundraiser event held Friday, December 7, 2018, surprising the 300 guests in attendance. "The orchestra members experienced tremendous chemistry performing with Michael, and along with the board of directors, expressed a great desire to have him as music director," said symphony board chair, Kim Woods. "Michael is a great fit for our organization and we have full confidence he will be an artistic leader our community."
Maestro Christie first led the New West Symphony in its October, 2018 performances of its "Rhapsody in Blue" concerts, celebrating the music of George Gershwin, and starring GRAMMY® winning soprano Sylvia McNair and renowned pianist Kevin Cole. His debut season, opening in October, 2019, will coincide with New West Symphony's 25th anniversary season.
Well known for his work in the opera world, Maestro Christie's live recording of The (R)evolution of Steve Jobs by Mason Bates was recently nominated for 4 GRAMMY® awards. Maestro Christie premiered this contemporary work with the Santa Fe Opera in 2017, one of the company's top selling operas of all time.
In April, 2019, Maestro Christie will conduct the New West Symphony's "Indescribable Beauty" concerts, featuring Chopin's Piano Concerto No. 2 with guest artist, Chopin Competition winner Yulianna Avdeeva, as well as Schumann's Symphony No. 4. Performances are Saturday, April 6, 2019 in Thousand Oaks, and Sunday, April 7, 2019 in Oxnard.
Most recently Maestro Christie led Minnesota Opera as music director, leading the artistic organization for eight seasons. "Michael's experience producing diverse, multi-media productions was particularly interesting to us as we advance our repertoire to include an array of performances," said Natalia Staneva. "This is unique and valuable experience which we believe will present opportunities for New West Symphony to expand into new types of performances as we celebrate our 25th anniversary in 2019/2020."
A complete biography, photos and a video welcome message can be found on the New West Symphony website at: https://newwestsymphony.org/announcing-new-music-director/
About New West Symphony
Founded in 1995, the New West Symphony is a professional orchestra that draws its players from the rich talent pool of professional Los Angeles area musicians. The Symphony presents an annual Masterpiece Series concert season and provides many educational opportunities for local youth through its annual Symphonic Adventures concerts, its traveling Music Van, and the Harmony Project of Ventura County. For more information visit https://www.newwestsymphony.org and follow them on Facebook at www.facebook.com/newwestsymphony.
#      #     #