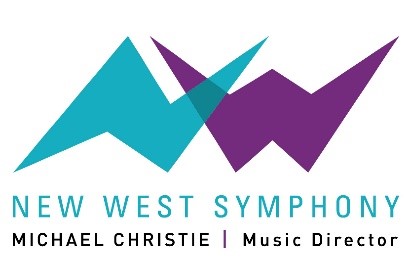 NEW WEST SYMPHONY

ANNOUNCES
CEO Natalia

Staneva
2023 Executive Leadership Award recipient
Association of California Symphony Orchestras
Board Chair Dr. Paul Finkel
Most Valuable Player Volunteer Award recipient

 
Eileen Roberts
626.826.8253
eroberts@newwestsymphony.org

August 18, 2023
FOR IMMEDIATE RELEASE
Thousand Oaks, CA — New West Symphony is pleased to announce the Association of California Symphony Orchestras has awarded its prestigious Executive Leadership Award for 2023 to CEO Natalia Staneva. The ACSO Executive Leadership Award recognizes the chief executive officer, executive director, or managing director of an ACSO member organization for extraordinary leadership in the classical music field by advancing the missions of their organization, creating a vision that inspires others, creating strategies to overcome challenges, and uniting a team to meet the demands of the changing world of classical music. 
Natalia's tenure with New West Symphony began as General Manager in 2008, and by 2010 she was appointed to the position of CEO.  
"Natalia successfully led the organization through strategic planning and the growth of the organization from $1,800,000 to $2,500,000. She is an effective crisis manager who led us through the pandemic and a period of adversity when we had to cancel and reschedule concerts," said New West Symphony's Board Chair, Paul Finkel. "I don't believe I'm overstating the consensus opinion of those  involved with the organization that Natalia has been an essential driving force behind the organization's success." 
ACSO Executive Director Sarah Weber said, "We created this award because oftentimes the work of an orchestra CEO is the last to be recognized. In our field, CEOs spend their time supporting their board members, mentoring and coaching their staff, shining the spotlight on their music director, or teaching aspiring young musicians. They lift up everyone before themselves. But they truly provide the strong backbone and influence the internal culture of any successful orchestra. Natalia certainly does for New West Symphony, and she is truly deserving of this recognition." 
"I have personally witnessed and benefited from Natalia's inspiring, visionary, and tireless efforts as CEO," says Music Director Michael Christie. "Her unequaled commitment to continually elevate every aspect of what the Symphony does, from successfully pulling the organization through the pandemic to being the driving force behind our recent inaugural outdoor summer music festival – she is truly a force of nature to be reckoned with and we are incredibly fortunate to have her at the helm," said Christie. 
The ACSO also awarded its 2023 Most Valuable (MVP) Volunteer Award to New West Symphony's Board Chair, Dr. Paul Finkel. ACSO launched the MVP Volunteer Award in 1996 to recognize exemplary volunteers, volunteer projects, and volunteer organizations and to thank a few of the hundred of dedicated, hardworking, and committed volunteers that orchestras and classical music organizations depend on every day. 
"Dr. Finkel leads by example and has reinvigorated the New West Symphony Board of Directors to leap award its goal of being a top-notch organization. In his first few months as Board Chair, Dr. Finkel re-engaged the board through a program called 'AAA,' which stand for 'Ambassadors, Advocates and Askers' and helps uncover the interest areas and strengths of members," said New West Symphony's Director of Special Project, Patricia Jones. "Dr. Finkel has shown commitment to his community and unwavering commitment to sustaining the New West Symphony in order to keep world-class classical music accessible in Ventura and Los Angeles Counties." 
ACSO Executive Director Sarah Webster said, "During good times and bad, orchestras depend on volunteers to help with almost every aspect of their operations. They are working behind the scenes and out in front as ambassadors to make sure that their orchestra is strong and active in the performance hall and in the community. Paul is an outstanding example of how critical volunteers are to keeping our orchestras vital and resilient." 
The Association of California Symphony Orchestras (ACSO), founded in 1969, is a member service organization representing 120 classical music organizations and their 2,000 board and staff in its network. ACSO's members are comprised of professional, academic, youth, and community-based orchestras, choruses, and festival in California and the western region. ACSO's annual awards program recognizes remarkable individuals and organizations for their meaningful contributions to the orchestra field. 
About the New West Symphony  
Now in its 29th season, the New West Symphony draws its players from the rich talent pool of professional accomplished Southern California-area musicians. Performances are held at the Bank of America Performing Arts Center in Thousand Oaks and Rancho Campana Performing Arts Center in Camarillo. 
Highlights of the upcoming 2023-24 season include: 
Holidays with Jennifer Holliday,

featuring Tony and GRAMMY® Award-winning

Jennifer

Holliday

on December 2 & 3, 2023.

 

The dazzling exploits of Cirque de la Symphonie, feats of human skill synchronized to live symphonic masterpieces.

 

The 100th anniversary of George Gershwin's timeless

Rhapsody in Blue

and Ottorino Respighi's spectacular

Pines of Rome

.

 
Making their New West Symphony main stage debuts are pianists Daniel Vnukowski, playing Rhapsody in Blue, and Lara Downes playing Scott Joplin's Four Rags for Piano and Orchestra. 
###