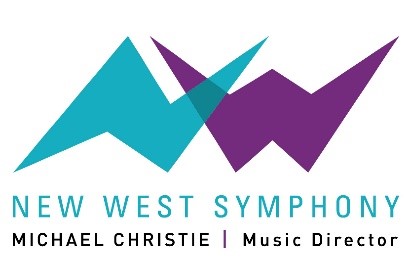 Sparkling Classical
 

w

ith audience favorite pianist



Sean Chen
Thousand Oaks and Camarillo,

September 9

and 1

0

, 2023
Eileen Roberts
626.826.8253
eroberts@newwestsymphony.org

August 22, 2023
FOR IMMEDIATE RELEASE
Thousand Oaks, CA – New West Symphony presents a concert of fun, fanciful works that will shimmer and delight. Beloved local favorite, pianist Sean Chen will be featured throughout the program. 
"Sean Chen has had a special relationship with the New West Symphony since he was named its Discovery Artist as a teenager in 2002. Audiences relish his virtuosity and sparkling personality. I am particularly pleased to feature him in a program of whimsical showpieces that will leave audiences not only smiling, but uplifted," said Artistic and Music Director Michael Christie. 
Born in Florida, Sean Chen grew up in Oak Park in Ventura County. After winning the 2013 American Pianists Award, placing third at the 2013 Van Cliburn International Piano Competition, and being named a 2015 Annenberg Fellow, Sean is now a Millsap Artist in Residence at the University of Missouri-Kansas City Conservatory. 
Sean has performed with many prominent orchestras, including the New West Symphony, Fort Worth, Indianapolis, Kansas City, San Diego, Knoxville, Hartford, Louisiana Philharmonic Milwaukee, North Carolina, Pasadena, Phoenix, Santa Fe, as well as the Chamber Orchestras of Philadelphia, Indianapolis, and South Bay.  
Sean has been featured in both live and recorded performances on WQXR (New York), WFMT (Chicago), WGBH (Boston), WFYI (Indianapolis), KCUR (Kansas City), KPR (Kansas), NPR's From the Top, and American Public Media's Performance Today. 
"I'm always excited to come back to play with New West Symphony and share music with the audiences back at home! The Strauss Burleske I'm playing is a piece that I've known about since I was a teenager, and every piano-obsessed kid has come across this piece and wondered why it's not performed more. You will hear Strauss's signature lush orchestration with powerful and colorful piano writing, and it's going to be very fun to perform, I am certain for the orchestra as well. The Francaix in the concert is a lighthearted piece, but it's deceptively difficult. I am very much looking forward to sharing the stage with Maestro Christie and the New West Symphony, and hope to see many new and familiar faces," says Sean Chen. 
"Let down your hair and be ready for fun all around. It's like homecoming week with Sean Chen as our guest artist for our September 9th and 10th concerts. Sean has an affinity for music that sparkles. Music Director Michael Christie has curated a program of effervescent, masterful works to follow suit. This engaging and entertaining concert is the type of program we are known for!" says CEO Natalia Staneva. 
The Symphony will also perform composer Jennifer Hidgon's Dance Card. Jennifer is one of America's most acclaimed figures in contemporary classical music, receiving the 2010 Pulitzer Prize in  
Music for her Violin Concerto, a 2010 GRAMMY®Award for her Hair Concerto, a 2018 GRAMMY®Award for her Viola Concerto, and most recently a 2020 GRAMMY® Award for her Harp Concerto. Jennifer's first opera, Cold Mountain, won the international Opera Award for Best World Premiere and the opera recording was nominated for two GRAMMY® Awards. In 2018, she received the prestigious Nemmers Prize from Northwestern University which is awarded to contemporary classical composers of exceptional achievement who have significantly influenced the field of composition. Her works have been recorded on more than seventy CD's. Jennifer has won three GRAMMY® Awards in her career. 
Pacific Festival Ballet will be represented in the concert with two of its dancers, Kara Covaleski and Jack Stewart. They will perform to Prokofiev's Symphony No. 1 "Classical," choreographed by Pacific Festival Ballet Artistic Director, Kim Maselli. Kara is an alumni of California Dance Theatre training under the direction of Kim Maselli for nearly 15 years. She has danced in many Pacific Festival Ballet productions. Kara danced as a trainee for Cincinnati Ballet, and was a company member in the San Diego Ballet. Jack started dancing under his mother's training, and has danced professionally at State Street Ballet of Santa Barbara from 2010 to 2020. He has since toured internationally and has been a guest artist with Pacific Ballet.  
Logix Federal Credit Union, a 2023 Season Sponsor of New West Symphony, as part of their sponsorship will generously distribute 100 tickets to Westlake High School, Thousand Oaks High School, Newbury Park High School for this concert.   
Sparkling Classical Tickets & Information 
Starting at $30 with student tickets at $10
https://newwestsymphony.org/2022-23-season/sparkling-classical/
866.776.8400 
Dates & Venues 
September 9, 2023, 7:30pm | Thousand Oaks
Kavli Theatre, Thousand Oaks Civic Arts Center 
2100 Thousand Oaks Blvd, Thousand Oaks, CA 91362  
September 10, 2023, 3:00pm | Camarillo
Rancho Campana Performing Arts Center
4235 Mar Vista Dr., Camarillo, CA 93010 
 Program for Sparkling Classical 
Michael Christie, conductor 
Sean Chen, piano 
Higdon     |  Dance Card 
Strauss      |  Burleske for Piano and Orchestra 
Francaix    |  High Exotic Dances 
                     Concertino for Piano and Orchestra 
Prokofiev   |  Symphony No. 1 "Classical" 
About the New West Symphony  
Now in its 29th season, the New West Symphony draws its players from the rich talent pool of professional accomplished Southern California-area musicians. Performances are held at the Bank of America Performing Arts Center in Thousand Oaks and Rancho Campana Performing Arts Center in Camarillo. 
Highlights of the upcoming 2023-24 season include: 
Holidays with Jennifer Holliday,

featuring Tony and GRAMMY® Award-winning

Jennifer

Holliday

on December 2 & 3, 2023.

 

The dazzling exploits of Cirque de la Symphonie, feats of human skill synchronized to live symphonic masterpieces.

 

The 100th anniversary of George Gershwin's timeless

Rhapsody in Blue

and Ottorino Respighi's spectacular

Pines of Rome

.

 
Making their New West Symphony main stage debuts are pianists Daniel Vnukowski, playing Rhapsody in Blue, and Lara Downes playing Scott Joplin's Four Rags for Piano and Orchestra. 
About Michael Christie
Named Artistic and Music Director of the New West Symphony in December 2018, GRAMMY® Award-winning conductor Michael Christie is a thoughtfully innovative conductor, equally at home in the symphonic and opera worlds, who is focused on making the audience experience entertaining, enlightening, and enriching. Deeply committed to bringing new works to life, he has championed commissions by leading and emerging composers alike. For further information, visit michaelchristieonline.com and follow him on Facebook, Twitter, Instagram and YouTube. 
###