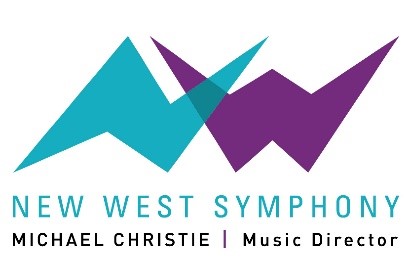 FOR IMMEDIATE RELEASE:
Ross Goldberg
ross@kevinross.net
818-597-8453, x- 1
New West Symphony Awarded $27,000 Grant
From the California Arts Council
(THOUSAND OAKS, Calif. – August 10, 2021) —The New West Symphony announced today that it has been awarded a $27,000 grant from the California Arts Council in recognition of the symphony's "resiliency and dedication" towards keeping the joy of music alive during the COVID-19 pandemic through its innovative "Global Sounds, Local Cultures" programming.
The California Arts Council focused its 2021 grants across distinct program areas with an emphasis toward "nurturing and healing our communities through the arts; keeping the doors of our arts and cultural institutions open; protecting jobs in the creative field; and preserving our cultural heritage, our stories, and our culture bearers."
"Global Sounds and Local Cultures" spoke directly to all of these priorities by presenting a season of digital concerts—along with engaging complementary content—reflecting the music, cultures, and family traditions found in California's southland. Running from October 2020 to the summer of 2021, the New West Symphony's reimagined concert season spotlighted the global influences and vivid cultural influences that helped shape classical music and SoCal itself. Among the programs presented were "tours" of Japan, Mexico, China, Iran, and India, along with programs dedicated to Holocaust Remembrance and "America the Melting Pot."
"We are deeply honored that the California Arts Council chose to recognize the New West Symphony for our innovative programming during these most difficult past 18 months and our strong belief in the healing power of music," said NWS Chief Executive Officer Natalia Staneva. "While our connections with our audiences changed to digital platforms for the short term out of necessity, what didn't change and never will is our commitment to bring quality programming to our audiences that touch the soul, warm the heart and provide a shared experience for people of all ages, cultures, and backgrounds."
The California Arts Council is a state agency with a mission of strengthening arts, culture, and creative expression as the tools to cultivate a better California for all. It supports local arts infrastructure and programming statewide through grants, initiatives, and services. The California Arts Council envisions a California where all people flourish with universal access to and participation in the arts.
Currently, in its 26th season, the New West Symphony draws its players from the rich talent pool of accomplished Los Angeles-area musicians. Its mission is to inspire passion for symphonic music through live performances and education initiatives that engage and enrich its diverse audiences. For more information, visit NewWestSymphony.org; or connect on Facebook and Instagram.
# # #