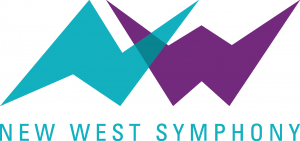 Contact:
Ross Goldberg
ross@kevinross.net
818/597-8453
Renowned Canadian Conductor Tania Miller Named Finalist
for Music Director for the New West Symphony
(THOUSAND OAKS) – April 24, 2018 – Tania Miller, long-time music director of the Victoria Symphony in British Columbia, has been selected as one of the three finalists to fill the positon of music director of the New West Symphony, it has been announced. The Symphony is currently concluding its second season of its search for a new music director with the intention of having the selected candidate on board to lead the Symphony in its 25th anniversary season in 2019-2020.
Miller was the first Canadian woman to be music director of a major Canadian symphony orchestra, and for the pat 15 years has been a driving force behind new growth, innovation and quality for the Victoria Symphony. During that time she has gained a national reputation as a highly effective advocate and communicator for the arts.  Maestra Miller obtained her doctoral and master's degrees in conducting from the University of Michigan.
As part of the selection process, Miller was a guest conductor for the New West Symphony last season and returns to lead the orchestra in this season's "Virtuoso Tour de Force" concerts May 12th in Thousand Oaks and 13th in Oxnard.  As the final concert of the season, this special Mother's Day weekend program will include works from Wagner, Liszt and Dvorak and will feature Van Cliburn Competition gold medalist Haochen Zhang. Tickets for the concert may be obtained by calling 866-776-8400 or by visiting www.newwestsymphony.org.
Founded in 1995, the New West Symphony is a professional orchestra that draws its players from the rich talent pool of professional Los Angeles-area musicians. The Symphony is the resident company of the Thousand Oaks Civic Arts Plaza and the Oxnard Performing Arts Center. It presents six Masterpiece Series concerts annually and provides a number of educational opportunities for local youth through its annual Symphonic Adventures concerts, its traveling Music Van, and the Harmony Project of Ventura County,  For information go to newwestsymphony.org and follow us on Facebook at www.facebook.com/newwestsymphony.
#      #     #