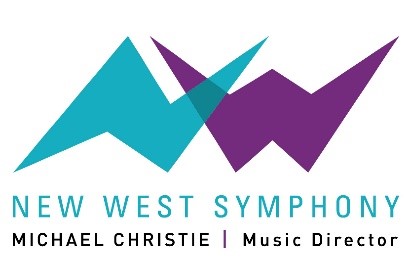 NEW WEST SYMPHONY PRESENTS 
Binging On Mozart Concerts
Thousand Oaks and Camarillo, April 15 & 16, 2023
Thousand Oaks, CA – New West Symphony will transport audiences on a grand tour curated and conducted by Music Director, Michael Christie from Mozart's vast catalog of 626 works to present a "mini-festival" in its upcoming concerts Binging on Mozart. Mozart's works were all composed within 35 years, only one of the numerous reasons many consider him the greatest composer in history. The performances also feature the debut of The New West Symphony Chorus, under the direction of Dr. Wyant Morton.
Highlights of the concerts include some of his most beloved works for orchestra, opera, soloists, and chorus. Mozart composed for every genre of his day, and Binging on Mozart will bring present a compelling and audience-pleasing sampling for connoisseurs and newcomers alike.
Guest soloists include pianist Natasha Kislenko, baritone Cedric Berry, and New West Symphony's principal clarinetist Joshua Ranz.
Born in Moscow, Natasha Kislenko holds degrees in piano from the Moscow Tchaikovsky Conservatory and Southern Methodist University in Dallas, TX. She earned her Doctor of Musical Arts degree from Stony Brook University, NY. Natasha made her Carnegie Hall solo recital debut after taking the Grand Prize at the Missouri Southern International Piano Competition in 1996. Recent solo engagements include the Eskisehir Greater Municipality Symphony Orchestra, Turkey and the Varna
Chamber Orchestra, Bulgaria. A resident pianist of the Santa Barbara Symphony since 2010, Natasha has been a featured soloist for the Shostakovich, Grieg, Clara Schumann, de Falla, and Mozart piano concerti, to critical acclaim. In addition to a successful performing career, Dr. Kislenko has been a collaborative faculty member at the Music Academy of the West, CA since 2004, and joined the faculty at University of California, Santa Barbara in 2007 after serving at California State University, Fresno for five years.
Cedric Berry is an award-winning bass baritone whose experience spans Opera, Broadway, American Songbook, jazz and gospel. He has performed with the Los Angeles Opera, The Industry Opera, Long Beach Opera, Savonlinna Opera Festival of Finland, Banlieurs Bleues Festival of France, and the Ravinia Music Festival to name a few. He has appeared with Los Angeles Philharmonic, Pacific Symphony, Arizona Symphony, Santa Fe Symphony, Luckman Jazz Orchestra, Pasadena Pops Orchestra, California Philharmonic, and the Telemann Chamber Orchestra of Japan. Cedric has also been the recipient of several awards including first place in the Metropolitan Opera Western Region Competition. Notable recent engagements include the world premiere of Yusef in The Central Park Five opera.
Hailed in the Los Angeles Times for his "stunning rendition" of the Mozart Clarinet Concerto and an "exciting" version of the Copland Clarinet Concerto, Joshua Ranz is principal clarinet of New West Symphony and Los Angeles Chamber Orchestra. He is also bass clarinetist of the Pacific Symphony. Joshua has played on over 200 soundtracks for such composers as John Williams, James Horner, Randy Newman, Michael Giacchino, and many others. Some of the recent films he has played on include Encanto, Coco, Lady Bird, Star Wars VII and IX, Rogue One, and The Incredibles. His upcoming film is Indiana Jones 5. In April 2021, Joshua released a groundbreaking album "Three Cello Suites" comprised of three J.S. Bach's Cello Suites arranged for Bass Clarinet. In the fall of 2018, Joshua joined the faculty at UCLA's Herb Alpert School of Music as Lecturer in Clarinet. A graduate of Harvard College and Yale School of Music, he has previously taught at Pomona College, Biola Conservatory of Music, and Long Beach City College.
The New West Symphony Chorus will debut in both concerts, under the direction of Dr. Wyant Morton. Dr. Morton is a Professor of Music at California Lutheran University and is in his 31st year as a conductor of the Cal Lutheran Choral Ensembles. He served as Chair of the Music Department from 1998-2013 and 2018-2019. In recent seasons, Dr. Morton has prepared the Cal Lutheran Choral Ensembles for performances with the New West Symphony (Beethoven's 9th Symphony in 2022, A Mid-Summer Night's Dream by Felix Mendelssohn in 2019 with Michael Christie, Leonard Bernstein On Stage in 2017 with John Mauceri, Gloria by Francis Poulenc in 2017 with Kynan John, The Plants by Gustav Holst in 2016, and Daphnis et Chloé in 2015 with Marcelo Lehninger). For this performance, Dr. Morton prepares the newly formed New West Symphony Chorus for performances of music from Mozart's Requiem.
Concert sponsors for Binging on Mozart include  Adele McGinnis, and Rain Stewart Van Name in memory of Peter Van Name.
 —
Binging on Mozart Tickets & Information 
Starting at $30 with student tickets at $10
866.776.8400 
 —
Dates & Venues 
April 15, 2023, 7:30pm | Thousand Oaks 
Kavli Theatre, Thousand Oaks Civic Arts Center  
2100 Thousand Oaks Blvd, Thousand Oaks, CA 91362 
 —
April 16, 2023, 3:00pm | Camarillo 
Rancho Campana Performing Arts Center  
4235 Mar Vista Dr., Camarillo, CA 93010 
—
Program for Binging on Mozart 
WOLFGANG AMADEUS MOZART 
Symphony No. 35 in D Major, K. 385, "Haffner," Allegro con spirito 
The Marriage of Figaro, K. 492, Overture 
"Non piú andrai" from The Marriage of Figaro 
Piano Sonato No. 11 in A major, K. 331, "Alla Turca," Allegretto 
Piano Concerto No. 24, in c minor, K. 491, Allegro 
Serenade No. 13 in G major, K. 525 "Eine Kleine Nachtmusik," Allegro 
String Quintet No. 4 in g minor, K. 516, Allegro 
Clarinet Concerto in A major, K. 622, Rondo 
Requiem in d minor, K. 626 
Introitus: Requiem aeternam, Kyrie 
Sequenz: Dies Irae, Lacrimosa, Amen  
Communio: Lux Aeterna, Cum Sanctis 
---
About the New West Symphony  
Now in its 28th season, the New West Symphony draws its players from the rich talent pool of professional accomplished Los Angeles-area musicians.  During this season, New West Symphony will present programs ranging from GRAMMY®Award-winning composer Mason Bates' orchestra concerto with animated/live action film, to Beethoven's beloved Symphony No. 5. The season features New West Symphony performances of works by Mozart, Dave and Chris Brubeck's Ansel Adams: America, Berlioz's Symphony Fantastique, Tchaikovsky's Variations on a Rococo Theme, and guest artists such as Two-time Tony nominee Laura Osnes, Van Cliburn International Medal Winner, pianist Sean Chen, award-winning Dudamel protégé, conductor Enluis Montes Olivar, and acclaimed cellist Ifetayo Ali-Landing. 
—
About Michael Christie 
Named Artistic and Music Director of the New West Symphony in December 2018, GRAMMY® Award-winning conductor Michael Christie is a thoughtfully innovative conductor, equally  
at home in the symphonic and opera worlds, who is focused on making the audience experience at his performances entertaining, enlightening, and enriching. Deeply committed to bringing new works to life, he has championed commissions by leading and emerging composers alike. 
Christie has served as Music Director of the Phoenix Symphony (2005-2013) and Brooklyn Philharmonic (2005-2010), and as Chief Conductor of the Queensland Orchestra (2001-2004) in Australia. He has also guest conducted the Los Angeles Philharmonic, National Symphony Orchestra, Civic Orchestra of Chicago, Rochester Philharmonic Orchestra, Rhode Island Philharmonic, and the Symphonies of Dallas, St. Louis, Atlanta, Houston, Minnesota, Oregon, Indianapolis, Cincinnati, and Santa Rosa. European engagements have included leading the Rotterdam Philharmonic, DSO Berlin,  
Orchestre National de Lille, Swedish and Netherlands Radio Symphony, City of Birmingham Symphony, NDR Hannover Orchestra and the Czech Philharmonic. Christie also enjoys a strong profile in Australia, where he has conducted the Sydney Symphony, Tasmanian Symphony, Opera Queensland, and the Western Australian Symphony in Perth. 
For further information, visit michaelchristieonline.com and follow him on Facebook, Twitter, Instagram and YouTube.