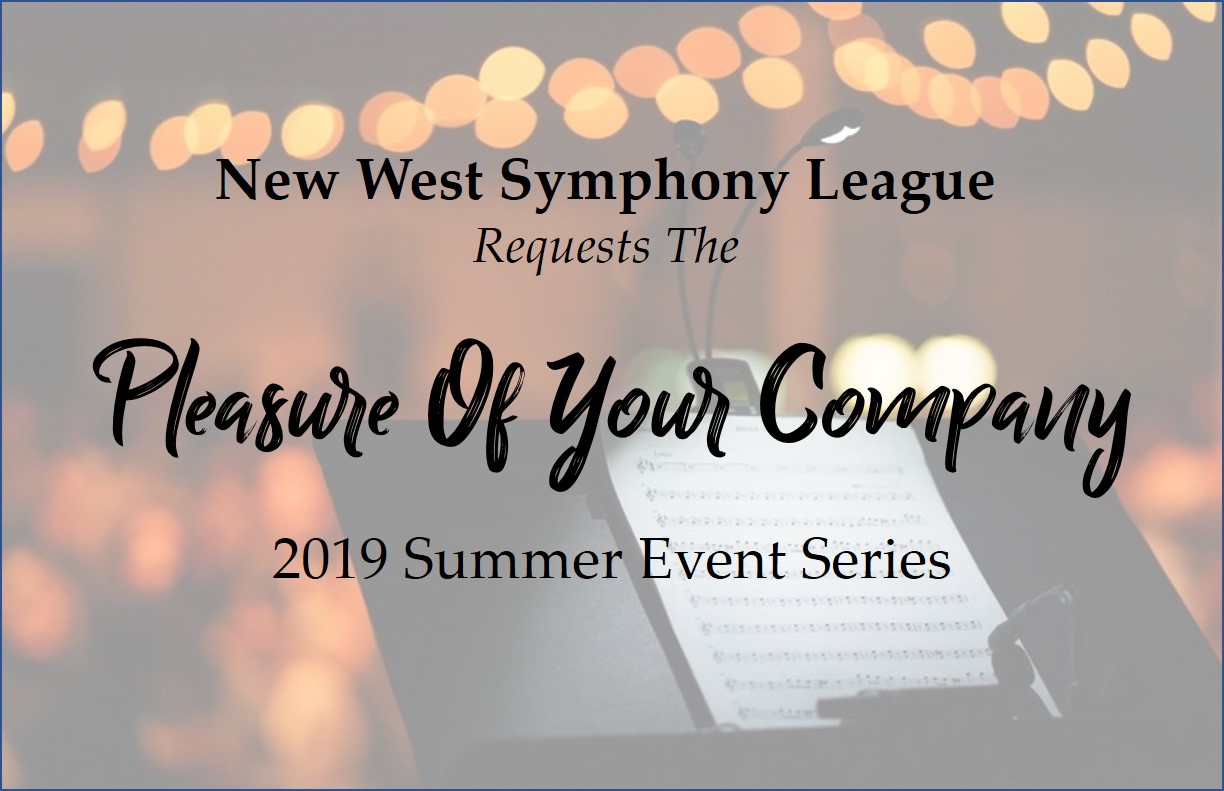 Each summer the New West Symphony League hosts unique events for fellow arts and music lovers to experience together. All events are completely underwritten by League members. Your ticket price goes entirely to support the New West Symphony. Reservations are necessary for all events.
For more information, email newwestsymphonyleague@gmail.com, or call (805) 435-2781. Additional events will be announced so check this page again soon.
"Play It Again, Sam"
Sunday, July 14 | 2:00-4:30pm
Private home in Westlake Village | $65 per person
Judith Finell, Forensic Musicologist, is on the musicology faculty at UCLA. As a contemporary music and copyright infringement expert, Judith will discuss courtroom drama involving music as intellectual property. Capacity 24 people. Light meal served. Hosted by Renee Salick and Katherine Todd.
Piano Recital by Quick Bowman Competition Winners
Saturday, July 20 | 2:00-4:30pm
Private home in Westlake Village | $50 per person
Two winners of New West Symphony's Quick Bowman piano competition will perform. Henry and La Reine Quick partnered with New West Symphony to give local youth an opportunity to perform before judges and be awarded for their participation in the competition. Capacity 30 people. Light refreshments. Hosted by Anne Prokopovych and Pat Croner.
Values and Visions: Jewish Life from Antiquity to America
Wednesday, August 7 | 11:30am-2:00pm
Skirball Cultural Center and Museum | $50 per person
Private Docent Tour of Values and Visions exhibit at the Skirball Cultural Center and Museum housing one of the largest Judaica collections in the world! This historically illuminating exhibit chronicles the struggles and achievements of the Jewish people over a span of 4,000 years. The one-hour tour is followed by an optional no-host lunch. Hosted by Pat Croner and Renee Salick
Cooking with Jo-Ann Gordon
Sunday, August 18 | 11:00am-2:30pm
Private home in Moorpark | $100 per person
Gourmet chef Jo-Ann Gordon returns to present another acclaimed cooking demonstration in a home in Moorpark. Registration limited to 12 people. Novices and gourmands welcome. Hosted by Hope Rosenfeld.
Paint Night with Elena Avansesova
Sunday, August 11 | 5:30pm – 7:30pm
Agoura Hills | $65 per person
Elena Avansesova is an artist of unique skill and creativity and very much known for her exquisitely beautiful hand-painted scarves. Bring your inner artists for an evening of fun and creativity! Capacity 25 people. Hosted by Dr. Denise Danne and Cindy Idell
Cybercrime: Are You Vulnerable?
Sunday, September 15 | 4:00-6:00pm
Local private home | $50 per person
Ventura County District Attorney Investigator James "Kimo" Hildreth is a nationally recognized expert in the investigation, prosecution and prevention of sophisticated cybercrime. Kimo will present strategies to keep you safe online. Wine and appetizers served. Hosted by Janice Maurizi and Shelia Schwedes.
Celina Biniaz: Historical First Hand Account
Sunday, September 22 | 2:00pm – 4:00pm
California Lutheran University | $50 per person
Celia Biniaz was the youngest of Schindler's Jews and had the honor of being memorialized in Spielberg's film. California Lutheran University, Preus Brandt forum. Capacity 150 people (CLU students invited). Refreshments served. Hosted by Pat Croner, Hope Rosenfeld, Jan Maurizi, and Marilyn Sutton.