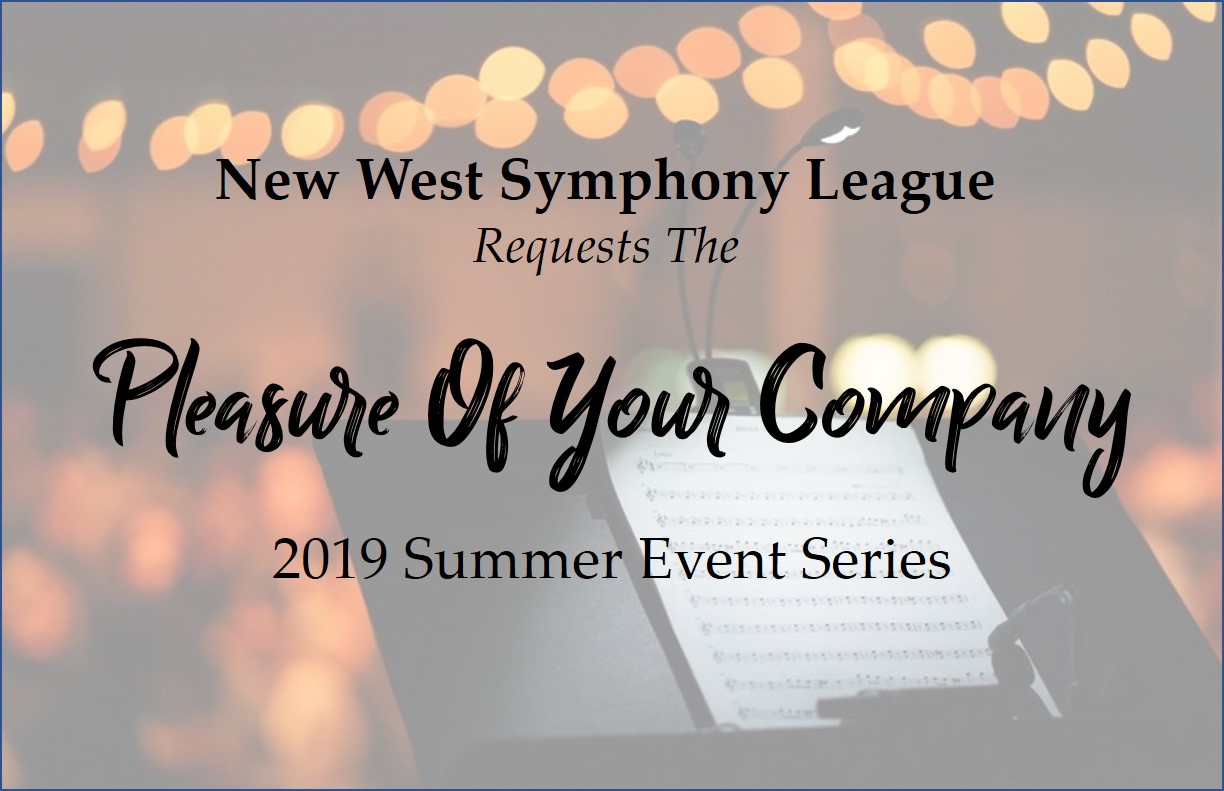 Each summer the New West Symphony League hosts unique events for fellow arts and music lovers to experience together. All events are completely underwritten by League members. Your ticket price goes entirely to support the New West Symphony. Reservations are necessary for all events.
For more information, email newwestsymphonyleague@gmail.com, or call (805) 435-2781. Additional events will be announced so check this page again soon.
To download a printable listing of these events, click here.
What is a Symphony?
Thursday, August 1 | 11:00am – 2:00pm
Private home in Wood Ranch, Simi Valley | $60 per person (includes lunch)
Coaxed out of retirement by popular demand, Dr. Samuel Bruttomesso, New West Symphony Board member and music aficionado, will regale us with his insights into the complexity and variety of the Symphony as a musical form. He will explain what makes a musical composition a Symphony, and provide video illustrations of some of the more famous symphonies and how they achieved greatness. As a fan of the New West Symphony, you will gain a greater understanding and appreciation of musical performances.
Hosted by Denise Danne, Renee Salick, and Sheila Schwedes.
That Tune Sounds Familiar…Is It REALLY Opera??
Sunday, August 4 | 2:00 – 4:00pm
Private home in Thousand Oaks | $50 per person (includes light refreshments)
Do you have an arms-length relationship with opera because the music is unfamiliar? Steve Kohn will play selec-tions of vocal and instrumental music from operas in an interactive format to show you that you know more about opera than you might have imagined. Steve Kohn is a trained community educator for the Los Angeles Opera, and blends his knowledge and passion for the art form with humor and an easy-going style, to inform and delight all types of audiences.
Hosted by Cindy Idell, Anne Prokopovych, and Hope Rosenfeld.
Values and Visions: Jewish Life from Antiquity to America
Wednesday, August 7 | 11:30am – 1:00pm, followed by no-host (optional) lunch
Skirball Center, Los Angeles (free parking available) | $45 per person
Join us for a private, docent-led tour of the Skirball Cultural Center and Museum that features one of the largest permanent collections of Judaica in the world. This historically illuminating exhibit chronicles the struggles and achievements of the Jewish people over a span of 4,000 years. Travel through the many lands and civilizations where Jews have lived and discover their ancestral visions and core values. Our group will view the Torah Scroll, rolled to where the journey begins, and the biblical command to Abraham… "Go forth and be a blessing." (Genesis 12:1-3) After our program, please feel free to explore the museum on your own.
Hosted by Pat Croner, Renee Salick, and Marilyn Sutton.
Paint Night with Elena Avanesova
Sunday, August 11 | 4:00 – 6:30pm
The Art Studio Agoura in Agoura Hills | $65 per person (includes materials and dinner)
Create your own masterpiece in an artist's studio in Agoura Hills. Elena Avanesova is an artist of unique skill and creativity, widely known for her exquisitely beautiful canvasses and hand-painted scarves. She has contributed her time and displayed her art pieces for New West Symphony audiences. Come out for an evening of good food, fun, and creativity! Bring your inner artist and be surprised by what you discover.
Hosted by Elena Avanesova, Denise Danne, and Cindy Idell.
Cooking with Jo-Ann Gordon
Sunday, August 18 | 11:30am – 2:00pm
Private home in Moorpark | $100 per person (includes wine, hors d'oeuvres, and elegant fare)
Professional chef and League member Jo-Ann Gordon returns by popular demand to present another acclaimed cooking demonstration. This exclusive event is limited to twelve guests. Novices, gourmets and gourmands wel-come. While guests enjoy wine and hors d'oeuvres, Jo-Ann will demonstrate how to prepare an elegant menu that participants will enthusiastically consume.
Hosted by Jo-Ann Gordon and Hope Rosenfeld.
Exclusive Art Tour at Paul Finkel's Home
Sunday, August 25 | 2:00 – 4:00pm
Private Home in Westlake Village | $75 per person (includes refreshments)
Dr. Paul Finkel is a retired internist and nephrology subspecialist who has generously supported the New West Symphony for many years. He joined the Symphony Board of Directors in 2008, and from 2014 to 2018, served as Board Chair. The New West Symphony League recognized Dr. Finkel as its Honoree at the 2018 Reflections Gala. In addition to his passion for symphonic music, Dr. Finkel is known for his love of photography and, in the past several years, the creation of art images using mixed media. He has been locally exhibited and his art can now be found in many US cities as well as Japan and Switzerland. In addition, Paul and Karen have passionately collected African art which is prominently displayed in their home. Dr. Finkel will conduct tours of their art col-lection as displayed in their home.
Hosted by Paul Finkel, Hope Rosenfeld, and Renee Salick.
Paradise Falls Hike and Picnic
Thursday, September 12 | 9:00am – Noon
Wildwood Park, Thousand Oaks | $50 per person (includes water and box lunch)
A docent-led three-mile loop hike will take us to the beautiful Paradise Falls and back. The waterfall plunges 30 feet into a large pool. There are several views to take in at the Falls. We will enjoy a boxed lunch to complete our day. We strongly advise guests to wear sunscreen, hiking boots, hat, and even bring walking poles. Dogs are welcome, too. Let's get out and take in the great outdoors!
Hosted by Denise Danne, Janice Maurizi, and Ernestine Stansbery.
Cybercrime: Are You Vulnerable?
Sunday, September 15 | 4:00 – 6:00pm
Private home in Thousand Oaks | $50 per person (includes wine and appetizers)
Ventura County District Attorney Investigator and Certified Forensic Computer Examiner, James "Kimo" Hildreth, is a nationally recognized expert in the investigation, prosecution and prevention of sophisticated cybercrime. Mr. Hildreth is currently assigned to the FBI Technology Enabled Crime Task Force and the South-ern California High Tech Task Force. He previously served as a Los Angeles County District Attorney Investigator and Supervising Investigator, where he was cross-designated as a Federal Marshal assigned to the United States Secret Service Los Angeles Electronic Crimes Task Force. Kimo has been a Peace Officer for the State of California for more than 25 years, and reminds us, "Cyber-crime is everywhere, and no one is completely safe from it."
Hosted by Janice Maurizi and Sheila Schwedes.
Celina Biniaz: Holocaust Survivor
Sunday, September 22 | 2:00 – 4:00pm
Preus-Brandt Forum, California Lutheran University | $75 per person/Contributions welcome from CLU students (includes refreshments)
After being directed to the gas chambers at Auschwitz, teenage Celina Biniaz confronted Josef Mengele, plead-ing for her life, saying: "Let me go!" Miraculously, the "Angel of Death" changed his mind. Part of Celina's story is immortalized in Schindler's List, Steven Spielberg's 1993 Oscar-winning film. Celina credits Oskar Schindler for saving her life, but credits Steven Spielberg for bringing to the screen so many horrendous incidents that she witnessed and enabling her to speak about those experiences. Celina has gained strength in sharing her story and will recount details of her childhood and how she conquered her anger.
Hosted by Pat Croner, Hope Rosenfeld, and Marilyn Sutton.