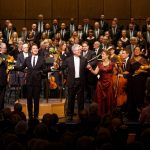 Maestro John Mauceri and New West Symphony
Orchestra Positions
The New West Symphony is a professional orchestra that includes some of the most famous and accomplished musicians from around the globe. Our tenured orchestra members are OSCAR® and GRAMMY® nominated artists themselves, and can be heard on almost any film soundtrack you can imagine, from Jurassic Park to Star Wars to La La Land!
NOTICE OF AUDITIONS
New West Symphony announces auditions for:
Principal Cello (audition repertoire)
Principal Viola (audition repertoire)
1st Associate Concertmaster (2nd Chair) (audition repertoire)
Assistant Concertmaster (4th Chair) (audition repertoire)
Assistant Principal Violin 2 (2nd Chair) (audition repertoire)
Section violin (audition repertoire)
Auditions will be held on October 7, 8, and 9, 2019. Final rounds will immediately follow the preliminary rounds of respective instruments.
Mail a cover letter and a one-page resume along with a $25 refundable deposit to the following address:
New West Symphony
Attn: Auditions Committee
2100 E Thousand Oaks Blvd, Ste D
Thousand Oaks, CA 91362
Resume and deposit MUST be received by September 6, 2019.