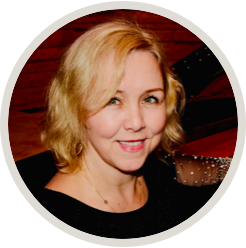 When Natasha Kislenko sits at the piano on April 15 and 16 to perform two selections by Wolfgang Amadeus Mozart with New West Symphony, she will be in her element — even if that element is a bit more stress-laden than others.
"You can talk for hours on Mozart," says the Russian-born piano virtuoso, acclaimed for her "expressive" and "exhilarating" style. "He was an absolute genius; every note he wrote was a gem. That makes it exciting — and challenging, because you don't want to let anything go by. Nothing can be imperfect."
Yes, she continues, musicians are all human and make mistakes. "But in Mozart," she points out, "when things don't work perfectly, every small imperfection makes everything else slightly off. One of my piano teachers said Mozart is the hardest composer to play for that reason. But if I have the choice of who I want to play, I say give me Mozart because he demands so much more."
For her first-ever performance with New West Symphony, Natasha will perform the first movements of Mozart's Piano Sonata No. 11, "Alla Turca" (Andante grazioso) from 1784, and his Piano Concerto No. 24 in C Minor (Allegro) from 1786. Both pieces, she says, are demanding and challenging, "and every moment in them is special."
Born and raised in Moscow, Natasha was introduced to piano around age 7 by her parents who were not musicians but who appreciated the importance of music in one's life.
"They asked me about learning violin," she recalls, "and I said, 'No, absolutely not.' So I took piano, mainly because it was easy for me."
She was lucky, she adds, "to have access to great concert halls and museums in Moscow. Going to operas and concerts early on was invaluable, even though it was in my subconscious."
Natasha also had a teacher "who recognized my abilities early," but it wasn't until she was a teenager that her interest in piano caught up with her abilities.
"In high school," she says, "there was a competitive atmosphere, and I had ambition, and I understood that to get better I had to practice a lot. And once I got into that musical environment, there was no way back."
Studying under Anatoly Vedernikov, Natasha earned a degree in piano from the Moscow Tchaikovsky Conservatory, then came to the U.S. to further her studies. She earned another degree in piano at Southern Methodist University in Dallas, studying with Joaquín Achúcarro, and then her Doctor of Musical Arts degree from Stony Brook University in New York, working with Gilbert Kalish.
"At the time I came to America," she notes, "things were difficult in Russia for musicians. Now things have improved for musicians but there is no way I would go back."
Not that she needs to. Natasha has won several international piano competitions, including the Grand Prize at the Missouri Southern International Piano Competition in 1996, and performed all over the world, notably throughout Europe and the U.S.
As resident pianist of the Santa Barbara Symphony since 2010, she has been a featured soloist for the Shostakovich, Grieg, Clara Schumann, de Falla and Mozart piano concerti. She has performed with many distinguished musicians and, along with Bulgarian violinist Chavdar Parashkevov, released two CDs for violin and piano, "Russian Sonatas" and "Beethoven, Brahms, Mahler," for wehich The Strad magazine praised her "limpid and beautiful pianism."
And she enjoys working with aspiring musicians, having served since 2004 at the Music Academy of the West, and since 2007 on the music faculty at UC Santa Barbara, where she is Senior Continuing Lecturer, Keyboard Program. She has also taught masterclasses at universities in the U.S., Turkey, Italy and Germany.
As a keyboard teacher and professor, her philosophy is to "be true to the composer. As much as I appreciate individuality, I focus more on getting intentions of composer on the page. That means knowing how to execute technically what's on the page, and then listen to other works by the same composer or his contemporaries.
"The piano is miniature orchestra, so you need to know the lines and textures. And then, once you understand that, your individuality kicks in, and you can develop your style, and interpret it your way."
In addition to her regular work with Santa Barbara Symphony, Natasha's near-term schedule includes a tour of Turkey and Bulgaria with violinist Parashkevov. And she looks forward to her 18th summer participating with Music Academy of West.
She enjoys travel and nature walks in her free time, what there is of it. Which makes sense for someone who embraces the challenge of performing Mozart to perfection.
"You can easily hear when things are not working in Mozart," says Natasha. "So to make the most powerful impact, it has to be absolutely perfect. But that's part of the enjoyment, because Mozart is fun to play."
"Binging on Mozart" will be presented by New West Symphony on Saturday, April 15, 7:30 p.m., at Thousand Oaks Performing Arts Center, Thousand Oaks, and on Sunday, April 16, 3 p.m., at Rancho Campana Performing Arts Center, Camarillo. Information: (866) 776-8400.