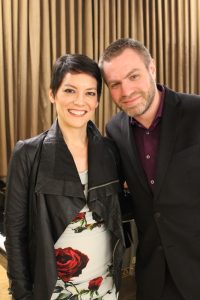 In February of 2017, one of our dear friends and favorite guest artists, Anne Akiko Meyers, joined the New West Symphony for Vivaldi's Four Seasons. It was guest conducted by Joshua Gersen, former Assistant Conductor of the New York Philharmonic, who also conducted Mozart's 40th Symphony (from memory!) in the program's second half.
Here is their photo at Meet the Artist the Thursday before the concert!
If you attended this Meet the Artist with Anne, you might recall she is performing on what is reputed to be the most valuable violin in the world. In 2014 the the Vieuxtemps Guarneri was anonymously loaned to Anne for the rest of her life. Here's an interview Anne did on NPR about her beautiful instrument:
And here is a stunning video of Anne Akiko Meyers produced for her album, The Four Seasons/The Vivaldi Album. Buy this album and more great recordings by our guest artists on the New West Symphony Music Shelf!