IN MEMORY OF BORIS BROTT
3/14/1944 – 4/5/2022
Dear Friends,
On March 4th and 5th 2023, we will honor the passion for innovation and commitment to education of our beloved Founding Music Director Boris Brott with a moving performance of "Nimrod."
Boris left an indelible legacy with the New West Symphony by developing our Discovery Artists Program as well as Symphonic Adventures for 3rd, 4th and 5th grade students which has changed the trajectory of thousands of children toward the arts.
Boris has received a multitude of awards and accolades over his lifetime which include:
Officer of the Order of Canada; Canada's Highest Honor
Honorary Doctorate of Law at McMaster University
Knight of Malta
International Man of the Year, Cambridge England
Fellow of the Royal Society of Great Britain
Hamilton Music Awards
American Music Awards
City of Hamilton Lifetime Achievement Award
The Great Hall of First Ontario was renamed the Boris Brott Great Hall
As we celebrate Boris' contributions to the New West Symphony, please consider sending in a tribute and donation to support our Education programs in honor of Boris.
We plan to compile all tributes onto a video montage which will be played at the concert. Please show your support for this amazing man who blazed a trail for the New West Symphony.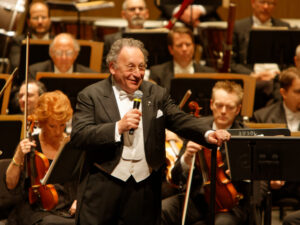 "It is vital to continue, reinvent, to challenge and further the Vision.  You have all invested in a trust for the future"
– Boris