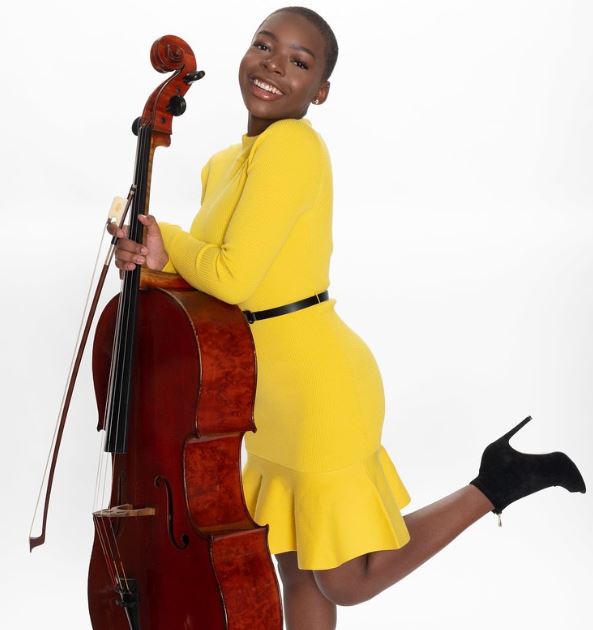 Ifetayo Ali-Landing
Cello
American cellist Ifetayo Ali-Landing was a child prodigy, and began playing cello at age 4 after switching from violin. She is the Sphinx Competition Junior Division First-Place Laureate for 2017 and performed as soloist with the Sphinx Symphony Orchestra at Orchestra Hall in Detroit. At the 2016 Sphinx Competition, Ifetayo was awarded Second-Place Laureate in the Junior Division. She was also one of the winners of the 2016 DePaul Concerto Festival for Young Performers and was a soloist with the Festival's Oistrakh Symphony Orchestra. Ifetayo has performed with the Chicago Symphony Orchestra (under Marin Alsop), Wilmington (NC) Symphony, New World Symphony, Detroit Symphony, Pittsburgh Symphony, South Bend Symphony, Buffalo Philharmonic, Elgin Symphony, and Southwest Michigan Symphony, among others. She made her San Francisco Symphony recital debut in 2022.
In 2013, at the age of ten, Ifetayo was honored at the Friends of the Illinois Philharmonic Orchestra Rising Stars Showcase, where she recorded the 1st movement of the Saint-Saëns Cello Concerto (No. 1). To date, the video has over 105,000 YouTube views and over 15 million Facebook views. She also recorded "Celtic Hymn" by James MacMillan, who discovered the video and complimented Ifetayo via Twitter. Her most recent YouTube recordings are the first movement of the Shostakovich Cello Concerto (No. 1) and Pampeana No. 2 by Alberto Ginastera.
She is featured frequently in the media, with notable appearances on NPR's From The Top (where she performed Vivaldi with Kevin Olusola beatboxing), a solo performance on NPR's Tiny Desk Concerts with From the Top, a residency as Young Artists with APM's Performance Today, and a TED talk at TEDxYouth@BeaconStreet.
Ifetayo comes from a multi-generational family of musicians. Her mother is a violinist, long-term member of the Chicago Sinfonietta and Suzuki teacher, her aunt is a cellist, her grandfather is an orchestral violist, her great-grandmother was a pianist, and all her siblings play instruments.
Ifetayo also enjoys singing, dancing, and playing the piano.