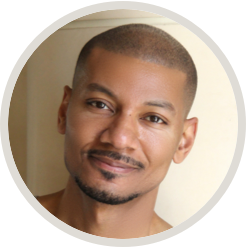 Cedric Berry has sung everything from classic opera to modern opera, and sung it well. But regardless of what he's singing, this Midwest-raised, Los Angeles-based baritone keeps one thought at the front of his mind:
Enjoy what you're doing.
"That's what I share with young singers I work with," says Berry, who will perform in New West Symphony's "Binging on Mozart" concerts April 15 and 16. "I always tell them, 'You have to find a way to enjoy what you're doing. Reduce the barriers you may encounter — whether it's nerves, breath support, or whatever — and become as confident and as comfortable as you can. And if you can find a way to enjoy what you're doing, the audience will enjoy it, too."
Cedric Berry's audiences have clearly enjoyed what he does. In the past two decades, he has earned numerous rave reviews for his operatic and concert performances in the U.S. and abroad, including several opportunities to perform the works of Mozart which, he says with a smile, "is like coming home."
"I think of Mozart as a cornerstone of music," says Cedric. "You have to get past Mozart to get anywhere else in opera, something I learned when I was younger. When I was participating in vocal competitions and would sing Verdi or Wagner, I was told, 'That's very good, but you need more Mozart.'
"In Mozart I find a balance that, as someone who is very math-minded, I appreciate. I've done a number of more modern and contemporary operas, so it is always a breath of fresh air to come back to Mozart, because there is no one better. There's a very lyrical quality to his work, and a happy feel to most of his music."
For New West Symphony's Mozart concerts, Cedric will perform "Non più andrai" ("You shall go no more"), an aria from "The Marriage of Figaro," one of numerous productions in which he has performed with Los Angeles Opera and other companies around the world.
His first professional experience as a Resident Artist with LA Opera included the roles of Fiorello in "The Barber of Seville," followed by Schaunard in "La Boheme," Wagner in "Faust," and Crébillon in "La Rondine," among others. He's also performed in many USC Opera productions, with Pacific Repertory Opera and UCLA Opera, and in the lead role of "Kublai Khan in Invisible Cities," a 2014 Pulitzer Prize Finalist.
Overseas, he's sung in a concert version of Gershwin's "Porgy and Bess" in Spain; with LA Opera in "Salome" at the Savonlinna Opera Festival in Finland; and in tribute to Paul Robeson for the Banlieues Bleues festival in Paris. And he has sung in numerous major orchestral concerts from California to Europe to Japan, including several performances with the New West Symphony.
Quite a resumé for one who as a youth sang in church choirs but was told by his grade school teacher that he was singing improperly. But when she heard him sing a solo ("My voice matured very quickly"), she evidently reconsidered her opinion, and assigned him a solo to sing at a school assembly.
It wasn't long before Cedric, who grew up in "Michiana" (southern Michigan and northern Indiana), was entering and winning vocal competitions. In his junior year of high school, he was accepted at the prestigious Interlochen Arts Academy, an international high school in Michigan, where he had attended summer music camps.
That's where I got introduced to opera," he says. "By then, I'd already been involved with school plays, and did a lot of singing around town. At Interlochen, the counselors said, 'You can combine singing and acting if you go to opera.' And I just had a knack and a voice for it."
His first operatic role was Grandpa Moss in "The Tender Land" by Aaron Copland, a role first played in 1954 by the famed Norman Treigle. Coincidentally, when Cedric came to USC, that was his first role, as a freshman — in disguise, sort of.
"Actually, freshmen weren't supposed to be involved," he recalls, chuckling. "But I told them I was a junior and they gave me the role. And even after they found out I was a freshman, they let me keep it."
Cedric earned his Bachelor's and Master's degrees in music at USC. He also earned a graduate certificate in college student personnel services, leading to his current position as assistant chair of USC's School of Cinematic Arts. The work, and his management of several real estate properties around Los Angeles, provides a nice balance to his musical work that, he says, "has come roaring back" after the pandemic.
In April he'll perform with Stockton Symphony and as part of the annual "Opera in the Desert" series in Palm Springs. In May he heads to Toronto for rehearsals of a "reboot" of Scott Joplin's "Treemonisha," completed in 1911 and considered to be the first Black opera, though it was not performed until a half century after the composer's death.
"We'll start performances in June, and hopefully next year bring it to the U.S.," says Cedric.
And he enjoys participating in LA Opera's "Connections" outreach program that brings opera to young people who might not otherwise have exposure to quality classical music.
"More than anything," he says, "I want them to enjoy the experience."
"Binging on Mozart" will be presented by New West Symphony on Saturday, April 15, 7:30 p.m., at Thousand Oaks Performing Arts Center, Thousand Oaks, and on Sunday, April 16, 3 p.m., at Rancho Campana Performing Arts Center, Camarillo. Information: (866) 776-8400.