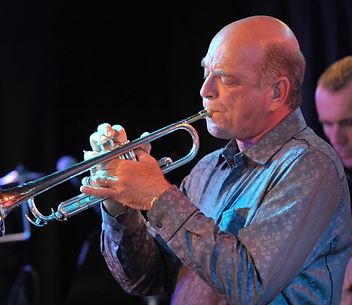 James Grinta
Principal Trumpet
As New West Symphony's principal trumpet since 2005, Jim Grinta appreciates the strong bond that the musicians — many, like he, longtime members — have forged over the years playing together.
"NWS is special to me in that it consists of top-notch musicians, many of whom have been with the orchestra for years and years," says Jim. "We have an identity as an orchestra. Because I and many of our musicians are freelancers as well, we have an accumulated wealth of experience in diverse performing and recording situations. This enables the orchestra to come together quickly and prepare a high-level performance that is deeply fulfilling to our public as well as to ourselves."
A graduate of Youngstown State University's Dana School of Music with a Master's Degree in trumpet performance, Jim spent three and a half years in Mexico City as principal trumpet with the Mexico City Philharmonic, as well as the Orquesta Filarmónica de la Universidad Nacional Autónoma de México, and as trumpet soloist with the Música Pro Arte Chamber Orchestra.
And in addition to his work with New West Symphony, he has performed regularly with orchestras in Santa Barbara, Pasadena, Redlands and Long Beach; has worked at Disneyland for 22 years and played in the Pageant of the Masters orchestra in Laguna Beach for 20 years; and has participated in the recording of numerous film and television soundtrack recording including "Star Wars: The Rise of Skywalker."
 Adept at performing any and every musical setting — from symphony orchestras to jazz and rock groups — he has backed up Andrea Bocelli in his western U.S. concerts for over a decade, and appeared on stage with such artists as Itzhak Perlman, Chick Corea, Brian Wilson, The Moody Blues, Garth Brooks and Christina Aguilera.
Amid his busy and diverse performing schedule, Jim maintains a flourishing private teaching practice, and finds a special pleasure in helping youth develop their musical talent.
"I work with young kids in Ventura County who start playing the trumpet 'from scratch,'" smiles Jim. "After a little while, I start to see them attending our NWS concerts with their families. It is very heartwarming and encouraging when this happens."
Participating in NWS' Symphonic Adventures concerts with the orchestra, he adds, "is a treat. This has been such a vital tool to introduce our youth to classical music in a fun way. It is so important and a wonderful way to keep orchestral music alive for future generations."