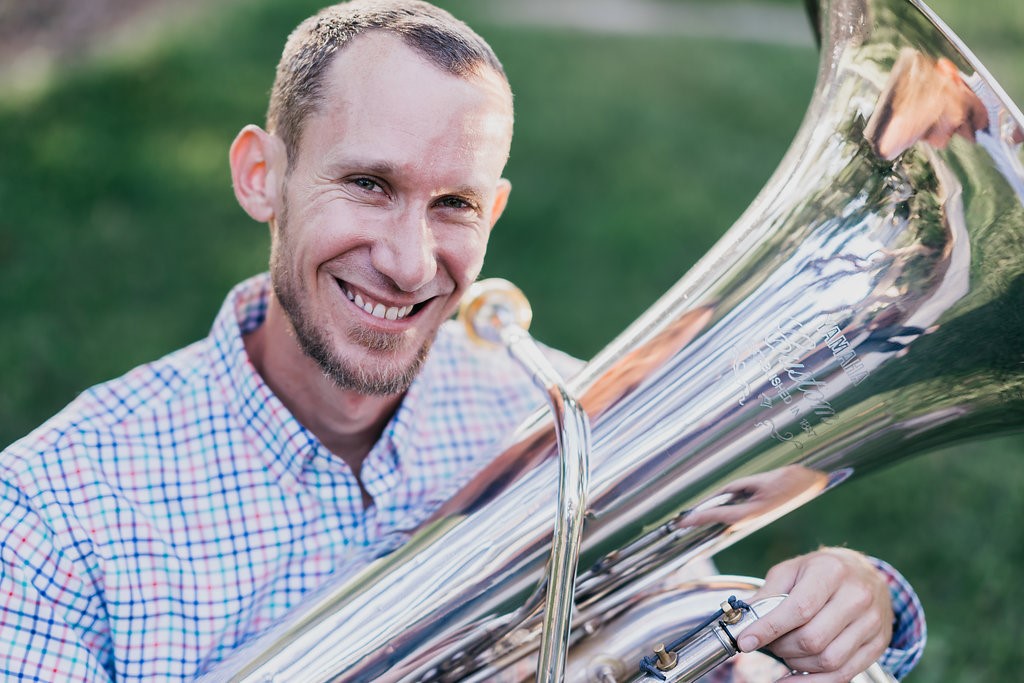 Blake Cooper
Principal Tuba
Few days have been more exciting for P. Blake Cooper than the spring day in 2013 when:
—he played the first of what would become many Hollywood recording sessions;
—he was just three days from earning his doctorate in music education, jazz bass and instrumental conducting from USC;
—and, most importantly, he won the chair as principal tuba for New West Symphony.
"And New West Symphony has been like a slingshot into the music business," smiles the native of Louisville, Kentucky. "It was my first major orchestra experience, and that first season there was a lot to do, which I really enjoyed. Now I play with many different orchestras, including LA Phil, so New West Symphony has been a wonderful launch to my career, and a great learning experience."
Over the past decade, Blake has played with LA Opera, LA Chamber Orchestra, LA Master Chorale and symphony orchestras throughout Southern California. He is also one of many NWS members who is a highly in-demand recording musician for movies and television.
And he is a passionate music educator who since 2012 has been Adjunct Professor of Tuba and Euphonium at Cal State Northridge. He also has taught at Santa Monica College, La Sierra University and Los Angeles City College, and served many years as the founding Brass Specialist and Wind Ensemble Director for the LA Phil's El Sistema-inspired Youth Orchestra initiative, YOLA @ HOLA.
During that time Blake taught for Bard College Longy School of Music MAT where he worked with aspiring El Sistema teachers as a mentor, supervisor and conducting education faculty. "Teaching is important part of my musical life," he says. "It helps provide balance."
Which is why Blake derives much of his enjoyment of performing with NWS from the opportunities it provides to interact with — and educate — the public.
"I enjoy going to post-concert receptions where we meet our wonderful patrons," he says. "I've done solo tuba performances in homes, salon concerts you might say. It's kind of like being an ambassador for my instrument, which can be misunderstood. The tuba has such soloistic versatility. So I speak about these pieces, why they're significant, and it's super fun."
Blake also likes mingling with, and answering questions from, concertgoers and patrons at NWS performances, a feature that Music Director Michael Christie has promoted in recent years. "Michael has brought orchestra members on to the stage at intermission," Blake notes, "and it's another wonderful way to connect with our audience."