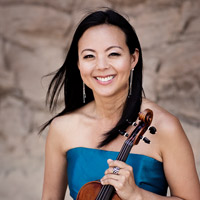 Alyssa Park
Concertmaster
Having established her international reputation at age 16 as the youngest prizewinner in the history of the Tchaikovsky International Competition, Alyssa Park has long since established herself as a premiere violinist in solo and ensemble settings — both in concert performances around the world and in numerous film and television soundtrack recordings.
But her connection with New West Symphony, of which she has been concertmaster since 2015, remains particularly meaningful and enjoyable.
"It's been such a pleasure to be a part of the New West Symphony family," she says enthusiastically. "Music Director Michael Christie has really brought a special energy to the orchestra, as well as his brilliant programming. The orchestra sounds better than ever, and I am enjoying the community of musicians and staff that make these concerts really special."
Having been praised by no less than The New York Times for "an unusually strong technique and a youthful sense of music making" following her New York City debut recital at Lincoln Center's Alice Tully Hall, Alyssa has long been in demand around the world. She performs annually (and extensively!) in chamber and orchestral settings throughout Europe, Asia, Australia and North America.
In addition to her New West Symphony commitments, Alyssa is a founding member of the acclaimed Los Angeles-based Lyris Quartet, which curates the "Hear Now" new music festival dedicated to performing the works of living Southern California composers. She also has been heard on more than 100 film and television soundtracks, and has served as concertmaster of the orchestra at the Academy Awards.
As one who made her professional debut at age 11 with the Cincinnati Chamber Orchestra, Alyssa is especially attuned to music education and supporting musicians of the future, which is why she enjoys participating in NWS' annual "Symphonic Adventures" concerts.
"One of the most important things that the orchestra does as a whole are the children's concerts," she says. "This is my favorite way to connect with the community. Education of our young people is the key to keeping this music alive and thriving."
She also appreciates the support of the music- and arts-loving community of Ventura County.
"I have been fortunate enough to play and attend New West Symphony's donor events," she says. "This gives me a chance to get to know the special people that support our orchestra year after year."
That is one reason, she adds with a smile, "that I am thrilled that live performances with the full orchestra are back!"