Sponsorship opportunities are still available.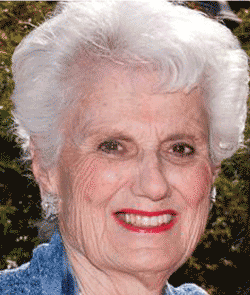 Happy Birthday, Nancy!
Nancy Israel has been a driving force behind the formation and growth of New West Symphony for its entire 25 year history. We are grateful for Nancy's passionate dedication to live symphonic music, her unwavering support of our mission, and her love of our community.
Please join us in this celebration featuring performances by orchestra members of the New West Symphony, and a live auction with delectable trips, precious jewelry, stunning art and much more!
Tickets are $250 per person.
Sponsorship opportunities are still available.

Contact
Stephanie Wilson
(805) 435-2775
swilson@newwestsymphony.org
Honoree
Nancy Israel's boundless energy, and fierce and uncompromising dedication to music, has enhanced and encouraged the flourishing arts in Ventura County since she arrived on the scene in 1993. Nancy has been one of New West Symphony's strongest and most influential advocates in its 25 year history, beginning as a founding member of the Symphony's Board of Directors, and currently serving on the Executive Committee and as co-chair of the Development Committee.
Platinum Sponsor
John Hammer
Gold Sponsors
John Shwope and Karen Dean Fritts, Ph.D.
Jordan Laby
Fanfare Sponsors
Miriam Wille
Rhapsody Sponsors
Michele & Dr. Russell Spoto
Ensemble Sponsors
Patricia & Robert Biery
Judi Caron
Home Helpers Home Care
Rain and Peter Van Name
Quartet Sponsors
Lisa & Alan Baker
Drs. Lucy & Sam Bruttomesso
Terry Moerler & Raymond McCarthy
Jeri Nowlen and Schrillo Family Foundation
Duet Sponsors
Saralee M. Baldwin & Jerry Robbins
Dagmar & Robert Bocchi
Linda and David Catlin
Keets & Hugh Cassar
Betsy Chess
Debbie & Ross Goldberg
Charles Hendrix
Rose & Alan Jeffery
Patricia & George Jones
Elise & Bill Kearney
Petra & Al Lowe
Leah Mendelsohn
Silvio Pelico
Kim Woods & Mark Schadecker
Gloria & David Spencer
Sam Bruttomesso, M. D.
Pat Croner
Paul Finkel, M. D.
Nadine Kawaguchi
Susan Patena
Hope Rosenfeld
Marilyn Sutton
Kathy Todd
Harry Croner
Denise J. Danne, Ed. D.
Cindy Idell
Jim Nagy
Anne Prokopovych
Renée Salick, Ed. D.
Stan Sutton
Kim Woods
Honorary Committee
Honorary Committee Co-Chairs
Hope Rosenfeld and Dr. Paul Finkel
Pat & Harry Croner
Carol Lamb
Stephen MacIntosh
Michele and Dr. Russell Spoto
Marilyn & Stan Sutton
Marney Weaver
Miriam Wille
Oksana and Dr. Kim Zussman