Laby Harmony Project 10 Year Celebration
Enjoy the celebration of our first ten years and honor our Teaching Artists who dedicate their time and talents to our Laby Harmony Project students. Enjoy special performances that illustrate the journey of our first ten years and the talents of our Teaching Artists. Teaching Artists make a meaningful difference in the lives of our students. We give thanks to our Harmony supporters and community.
Click to watch the Laby Harmony Project 10-Year Anniversary Celebration Film.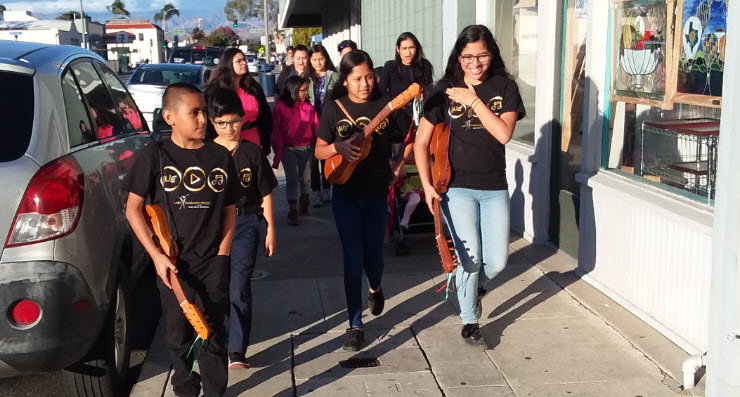 Laby Harmony Project uses music training to promote the healthy growth and development of children, providing musical opportunity and pathways to success to more than 160 children in under resourced communities. Students in grades K-12 enjoy a multi-year continuum of rigorous after-school music training. These tuition-free, long-term, and high-quality musical opportunities build a stronger, healthier, and more musically engaged community.
In early 2020, we pivoted to bring classes online and increased our programming to integrate arts and wellbeing workshops. Students enjoy meaningful opportunities for personal and musical growth through an array of virtual weekly classes and workshops via Zoom: small group instrument lessons, a variety of electives, and large group classes. For many of our students this is a steady "rock" within the storm of a global pandemic.
Questions? Contact Patricia Jones, Director of Special Projects for more information
Phone: 805-435-2775
FEATURING SPECIAL PERFORMANCES BY…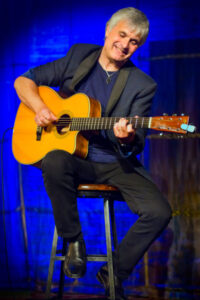 Laurence Juber
Laurence Juber is a solo performer, recording artist, composer and arranger. His playing fuses folk, jazz, blues, pop and classical styles, creating a multi-faceted performance that belies the use of only one instrument. First internationally recognized as lead guitarist in Paul McCartney's Wings, with whom he won a GRAMMY®, Juber has since established himself as world-renowned guitar virtuoso and entertainer. Juber was a coach with Harmony students on the Lennon Bus–a rolling recording studio that allowed our students to write music and lyrics to a song, record it, mix it and create a music video.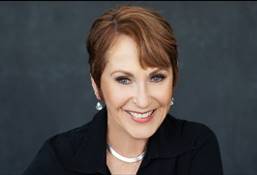 Amanda McBroom
Amanda McBroom has been called "…the greatest cabaret performer of her generation, an urban poet who writes like an angel and has a voice to match." Her name first came to the attention of the music public when Bette Midler's version of Amanda's song THE ROSE hit number one all over the world in 1979. But it was Amanda's performance of her own song on the Golden Globes (she won), Grammys (she didn't) and The Tonight Show that launched her career as a singer as well as songwriter.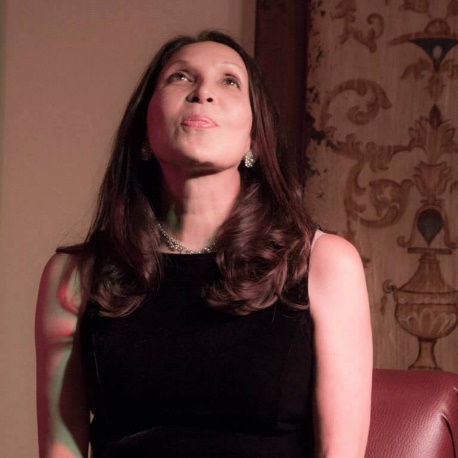 Suzanna Guzman
Suzanna Guzman is a mezzo-soprano, a native of East Los Angeles, and one of the original Associate Artists of Los Angeles Opera. She has appeared as a principal soloist with orchestras and opera houses around the world. An advocate of Arts Education she is widely recognized for her mentorship to California students. She's received the 2012 Hispanic Scholarship Foundation's "Mentor of the Year Award", 2012 Spirit of California Award from the State of California's Latino Legislative Caucus, 2013 Mexican American Foundation award for Woman of the Year and the 2015 Lifetime Achievement Award for her work in the arts and community.
Laby Harmony Project Teaching Artists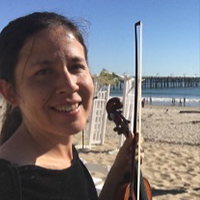 Christine Snipes Mazor (she/her)
Christine has a BA in music from Sonoma State University. An active chamber musician, she has been a member of the Ridgecrest Piano Trio, Sincopa String Quartet, the Bakersfield Symphony, and Channel Islands Chamber Orchestra. She has been teaching violin for over fifteen years in Ridgecrest, Los Angeles, Ventura, and Ojai. Christine also works as a paraeducator and caregiver. She lives in Ventura with her husband Isaac and daughter Rina.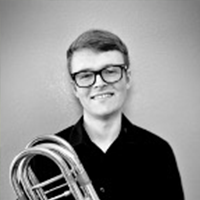 Charles Brunson (he/him)
Charles is a San Diego native with a background in trombone and piano. He received his Bachelor of Music degree at Cal State Northridge and is currently pursuing a Masters in Trombone Performance at UCLA. He is an instructor of brass students of all levels. He is also a member of Westwood Brass, a quintet consisting of current and former UCLA students. Charles continues his passion for piano and works as an accompanist. He enjoys reading, listening to music, and discovering and implementing methods of pedagogy.
"Teaching at Harmony Project has been an absolute privilege. Having joined the team in April 2020, I have not yet gotten the opportunity to teach my students in person. Nonetheless, I have witnessed so much growth in my students and am inspired by their perseverance to do well in uncertain times. I've particularly enjoyed teaching our creative musicianship class, in which we've tackled the subject of creativity in unconventional ways. The students and teachers at Harmony Project have faced many challenges in the past year, but I can say with certainty that we are proud of what we accomplished. I look forward to more of the same."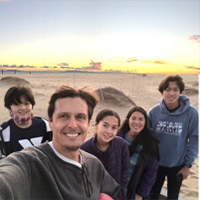 Paul Browne (he/him)
An elementary music teacher for Ventura Unified School District, Paul teaches RCP beginning band, musicianship, saxophone, and clarinet for Laby Harmony Project. He studied Communication Studies at Westmont College with a minor in Music, and earned his teaching credential from CSUN, playing saxophone every chance he had along the way.  When not teaching or making music, Paul likes to have fun adventures with his family.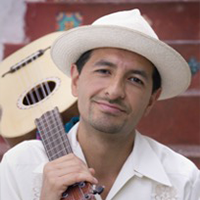 Jorge Mijangos (he/him)
Jorge learned his first guitar chords and started singing at festivals and on live radio programs in his native Chiapas, Mexico, at age 5. He began performing professionally at 17, participating in various local groups as a vocalist and guitarist and learning new instruments. He has performed with a wide range of groups in Chiapas, Mexico City, Santa Barbara, and Los Angeles, playing salsa, nueva canción, and son jarocho. In 1997 Jorge was invited to come to the U.S. to play with Mexican folk group Quetzalcoatl. He lives in Ventura, CA. with his wife and son. In addition to playing the jarana, Mijangos is a professional luthier, specializing in the construction of jarocho instruments. Mr. Mijangos currently plays and tours all over the world with the band Las Cafeteras from East Los Angeles.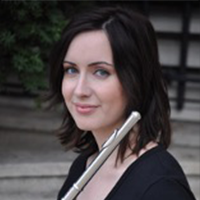 Caitlin Boruch (she/her)
Caitlin has a Bachelor of Music in Flute Performance from the University of Iowa, studying with Robert Dick and Tadeu Coelho, and a Master of Music in Flute Performance from the University of California­ Santa Barbara, studying with Jill Felber.  She has enjoyed a varied career within music.  While living in Santa Barbara, CA from 2003-2008, she was the program manager of the MERIT Program of the Music Academy of the West and general manager of the Santa Barbara Chamber Orchestra.  She then moved to Washington, DC from 2008-2010, where she served as a faculty member of the International School of Music and performed with the Capital City Symphony, Great Noise Ensemble, and the Columbia Flute Choir.  Caitlin lived in Switzerland from 2010-2014, where she co-founded a music school and both learned and performed Basler Piccolo, which is a fife-like instrument used in the annual Swiss festival of Fasnacht. 
Since moving to Ventura County in 2014, Caitlin has been honored to teach chamber music, group flute and keyboard, and private flute lessons with the Laby Harmony Project.  She also teaches chamber music at La Reina Middle and High School and a full studio of private flute lessons.  Caitlin is a member of the National Flute Association and a branch vice president of the Music Teachers' Association of California.  Her students enjoy an active performing schedule of national, statewide, regional, and studio-sponsored festivals, competitions, masterclasses, and events.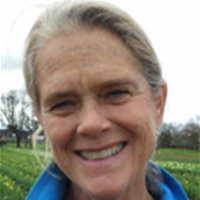 Betsy Manninen (she/her)
Betsy has been a Music TOSA for Ventura Unified School District since 2014. Her primary instrument is piano, but she also plays clarinet, recorder, guitar, ukulele, and drums. She joined us in summer 2016 as an instructor for students transitioning from recorder to clarinet and has been helping us ever since. She currently assists Paul Browne with our 3rd-grade Musicianship Class and substitutes whenever possible.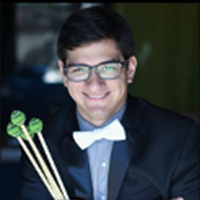 Chris Amaro (he/him)
Chris Amaro's musical journey began at age 10 with drum lessons, continuing with an extraordinary 3-year high school experience as principal percussionist for the San Diego Youth Orchestra.  He received a BA degree from Cal State Long Beach.  While there, he was the founder and President of CSULB Chapter of Musicians Club, performed in numerous ensembles, and was 2018 Homecoming Prince! 
Chris is a freelance percussionist and educator.   He is Percussion Coach for the Community Youth Orchestra of Southern California and Drumline Club Leader at South East High School through Woodcraft Rangers, as well as Percussion Manager for the San Diego Civic Youth Orchestra for 4 seasons. Chris is the resident Timpanist for the LA Open Door Presbyterian Church Orchestra and the California Solisti Chamber Orchestra.  During the pandemic, Chris has been a recording member of an international Virtual Concert Band.   Chris hopes to open a percussion school, showcasing and teaching percussion mediums from around the globe.
"I have been having an absolute blast teaching this past year for the Laby Harmony Project. My time with both Harmony Project LA and Harmony Project Ventura has been eye-opening and pushed me to work hard for my students. The students have been wonderful and they have been teaching me how to improve as a young educator, learning more skills in technology, engagement, inclusion, and diversity.  I am grateful to be among such an awesome team of music teachers."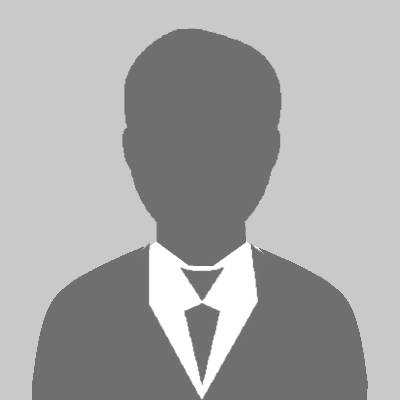 Adam Gilson (he/him)
Adam has been a Teaching artist with the Laby Harmony Project of Ventura for five years now.  He is a full-time stay-at-home dad, guardian to three cats, and a freelance writer on the side. He began playing violin locally at Anacapa Middle School and has been tutoring violin/viola for the past twenty years.  He worked as a special education paraeducator at De Anza Middle School, now DATA, from 2003-2012, before leaving to complete his Bachelors of English at California State University, Channel Islands, in 2016.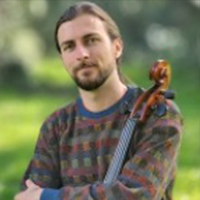 Cameron Schubert (he/him)
Hi, I'm Cameron, a cellist, songwriter, and composer who specializes in early music and Irish music. I've been living in Ojai for 12 years now, and currently live with my 7-year-old son, who has taken an interest in electric guitar and chess during our homeschooling sessions. During my free time, I also enjoy hiking, learning the German language, and developing my woodworking skills. As a solo artist, I was regularly performing at local senior living communities and weddings, which I am excited to resume when possible. Studying privately with an early music scholar in Switzerland, I have been actively working on developing new teaching methods which are historically informed.
My favorite part about working with Harmony is the community we're a part of.  Every class, the lightheartedness of my students raises my spirits, no matter the day. And it feels very good to be a part of a team of teachers bringing more music to our small corner of the world.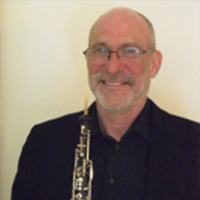 Fredric Beerstein (he/him)
Fredric has been teaching and performing oboe since the age of nineteen. He is both an accomplished musician and an attentive, patient teacher.
He has played in orchestras that have accompanied such performers such as Yo Yo Ma, Emmanuel Ax, Annie Akiko Meyers, Cho-Liang Lin, Van Clyburn, Midori, and Sarah Chang.  He is the oboe instructor at California Lutheran University in Thousand Oaks, California, and the principal oboe of the Vicente Chamber Orchestra and the Channel Islands Chamber Orchestra.  Fred Beerstein is a 25-year member of the New West Symphony and Thousand Oaks Philharmonic for more than a decade.
His work has also included recording for television and film as well as hundreds of chamber music performances. He has performed in Germany, Switzerland, and Austria. Past tenured positions also include principal oboist for the South Coast Symphony Orchestra and the principal oboist of the Bakersfield Symphony Orchestra.
Fred taught for 17 seasons at the Summer Program of the Idyllwild Arts Academy,  as an instructor at Ventura College, Bocal Majority/Operation Oboe, and has a successful private studio.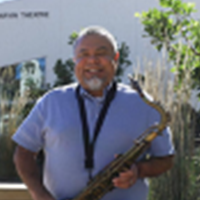 Andrew James Martinez (he/him)
A Santa Barbara native, Andrew started playing the saxophone at the age of 13. After being introduced to jazz music by his high school band director, the legendary Isaac Jenkins, he went on to study jazz performance at the University of North Texas. While at UNT, Andrew was featured in many of their prestigious Lab Bands and studied with some of the best jazz educators in the world including Dan Haerle, James Riggs, Neil Slater, Mike Steinel, & Fred Hamilton. In August of 1999, Andrew decided to make Los Angeles his home where he performed in the bands of Engelbert Humperdinck, Sheena Easton, Jack Sheldon, Bob Florence, and Bill Holman to name a few. Andrew has also been lucky enough to perform beside some of the most talented musicians in the world including Pete Christlieb, Bobby Shew, Dan Higgins, Wayne Bergeron, Andy Martin, Rick Baptist, Sal Lozano, Doug Webb, Don Shelton, Bill Perkins, Ron Stout, and Kim Richmond. In September of 2008, Andrew returned to Santa Barbara where he currently teaches music at Santa Barbara City College, Goleta Valley Junior High, Westmont College, and the Laby Harmony Project of the New West Symphony. Andrew also currently performs across Southern California as a featured soloist and is the musical director of the Santa Barbara City College Monday Madness Jazz Orchestra. Andrew has been teaching at the Laby Harmony Project since 2016:
"One of the best things about working with the Harmony students is establishing relationships with these wonderful young musicians, and hopefully changing lives for the better."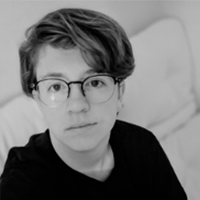 Hayles King (They/He)
Hayles is a teaching artist, trombonist, vocalist, and composer from Oxnard, California. Hayles studied at Ventura College, College of Performing Arts, 2012-2014. They graduated with a BFA in music from California State University, Northridge in 2017 and plan to graduate with an MFA in Instrumental Arts from California Institute of the Arts in May 2021. Hayles began teaching music with the Oxnard Scholars After School Program 2011–2014 and has been working with the Laby Harmony Project since 2016. They are currently based in L.A.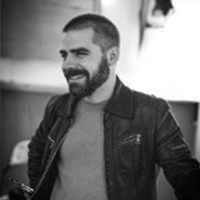 Rusty Kennedy (he/him)
Rusty acquired a BFA in Jazz Bass from the California Institute of the Arts. He specializes in bass, guitar, brass and winds, improvisation, and has over 10 years of teaching experience. He began his journey as a music educator while completing his degree working for the Community Arts Partnership (CAP) and Plaza de la Raza in East Los Angeles. Upon graduating, he began teaching Concert Band for the Whittier City School District's after-school Reach for the Stars/Jumpstart program, which included nine elementary schools and two middle schools, totaling over 100 students. In 2015, Rusty joined The Laby Harmony Project of the New West Symphony as a brass instructor and youth orchestra conductor. There, he also currently teaches songwriting, jazz, and salsa. In 2017, he joined the Rhodes School of Music in Larchmont as a brass, bass, and CAD instructor.
As a teaching artist, Rusty strives to help students discover and develop their own musical and creative voice. From the very beginning of the instructional process, Rusty introduces improvisation as a core element for developing musicianship through Creative Ability Development (CAD) and other improvisation techniques, while studying a spectrum of diverse genres and music styles.
As a human and educator, Rusty feels it is critical that he instills in his students that as artists and storytellers we have a responsibility to have a deep understanding of the history, culture, and theories of the music and art we practice and perform.
Rusty performs regularly throughout Los Angeles as a bass player and recording artist. He has toured extensively around the US and has performed at festivals internationally. Well-versed in a wide array of genres, Rusty is sought after for his extreme versatility and personalized approach to every project.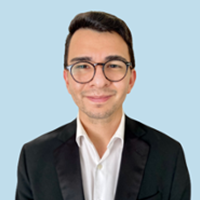 Shahid Yasser Osuna (he/him)
Shahid is an LA-based flutist, arranger, and teaching artist. In 2017, he received a certificate in Music Performance at the Coil School for the Arts in Riverside, CA studying under Eileen Holt, where he was the two-time winner of the President's Honor Recital. In 2019, Shahid graduated from California State University, Northridge with a degree in Wind Performance, where he studied with David Shostac. During his time at CSUN, he won the 2019 Upper Division Concerto Competition.
Shahid has played in masterclasses with flutists such as Robert Dick and Carol Wincenc, toured across the world in cities such as Paris and Munich, and has played flute with several ensembles across the Greater Los Angeles area, including the Bellflower Symphony Orchestra, Song of Angels Flute Orchestra, Whittier Regional Symphony, San Fernando Symphony, Armenian Pops Orchestra, and the LA Symphonic Winds. His arrangements have been debuted through performances at national venues, such as at the 2019 National Flute Association Convention in Salt Lake City, UT, and also virtually featured due to the recent pandemic. His most recent piece, a blues-inspired arrangement of "Amazing Grace", has been featured by the Los Angeles Department of Cultural Affairs.
Currently, Shahid teaches across Southern California through various music organizations and in his own private studio. In May 2021, Shahid will complete his Master of Fine Arts degree in InstrumentalArts at the California Institute of the Arts. He is actively engaged in LA and globally with several genres and new composers as a performer and recording artist.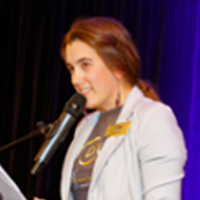 Anne Case (she/her)
Anne is a musician dedicated to social change through music. Ms. Case currently serves as Director of Laby Harmony Project of the New West Symphony, a program that provides intensive musical training to children and builds social equity and pathways to musical successes. Ms. Case has widened the scope of the program's impact by building in a Kindergarten entry-point into the program and expanding the program's opportunities for high school students. Prior, she coordinated and taught in Charlotte Symphony's El Sistema-inspired program, paving the way for program expansion. She has also served as the program director of Valley Vibes Orchestras (ViVO), located in a high-needs community in Sonoma, CA. Her passion for El Sistema also led her to work, intern, and volunteer at a number of music for social change initiatives including Play on Philly, MYCincinnati, Indiana University's Fairview Violin Project, and the Indianapolis Symphony Orchestra's Metropolitan Youth Orchestra. Ms. Case is from Edmonds, Washington. She achieved her Bachelors of Music in Piano Performance at Oberlin Conservatory and subsequently studied music education and string pedagogy at Indiana University, Bloomington. In continuing to explore diverse ways of creating change and growth through music, she is currently finishing a Masters in Clinical Mental Health Counseling with a specialization in Music Therapy through Lesley University.
What does Harmony mean to me? It means community, caring, empowerment, and a whole lot more. I love working towards a beautiful mission, as part of a fantastic team, and helping support our amazing young musicians who will be tomorrow's leaders in our community.
THANK YOU TO OUR SPONSORS
Event Sponsors
Jordan Laby and the Laby Family Foundation
Diane and Peter Goldenring
Hammer Family
Instrument Sponsors
Harvey Alpern
Anonymous
Kat and Bob Auletta
Frances and Richard Bohn
Lucy and Sam Bruttomesso
Bonnie and Don Carlton
Betsy Chess
Pat Richards Dodds and Tom Dodds
Karen and Paul N. Finkel
Debbie and Ross Goldberg
Nancy Israel
Patricia and George Jones
Elise and Bill Kearney
Brian Nelson
Jeri Nowlen
Erin Pohl
John Shwope and Karen Dean Fritts
Michele and Russell Spoto
Mucci Taylor
Rain and Peter Van Name
Facility Sponsors
Lisa and Alan Baker
Dwight Brown
Linda and David Catlin
Pat and Harry Croner
Cynthia and Paul Idell
Martha Jaffe
Philippa and Karl Klessig
Bob Lugari
Kerry and Stephen MacIntosh
Adele and James McGinnis
Barbara S. Meister
Susan and Tom Murphy
Susan and James Nagy
Judith Nelson
Cathy Sternstein
Marilyn and Stan Sutton
Marijane Unter
Arlane Veis
Kim Woods and Mark Schadecker
Sheet Music and Materials Sponsors
Jeri and Gus Andrews
Kelly Damon Barton and Rebecca Barton
Gregory Brown
Mona Kyle and Jim Carr
Patricia and Erwin Cohen
Claudia and Ron de la Peña
Barbara I. Fink
Lisa Friedman, Brian Gaffney, and Taylor Gaffney
Stanley Goff
Penny Greenblatt
Harvey Harris
Sandy Homb
Jacqui and Jon Irwin
Rose and Alan Jeffery
Bill Joseph
Louise Kermode
Patricia Maki
Barry McComb
Frances Pardee
Sue and Michael Pelman
Joan and Robert Piccioni
Anne and Ernest Prokopovych
Hope Rosenfeld
Marlene Varnen
Natalia Staneva and Eugene Yankevich
Jorge Zambrano
Jennifer and Craig Zobelein