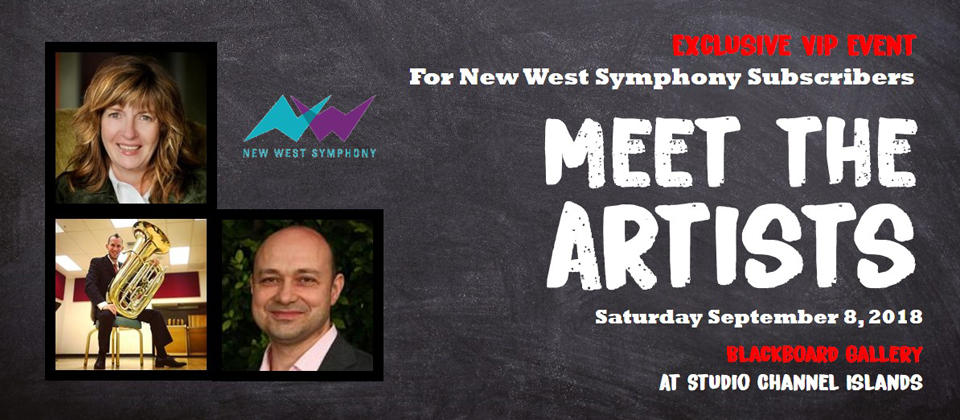 Meet The Artists
Exclusive New West Symphony Subscriber Event
Saturday, September 8, 2018
Blackboard Gallery, Studio Channel Islands
4pm – 6pm
Join the New West Symphony and Studio Channel Islands for an exclusive invitation-only event, featuring musicians from the New West Symphony and 6 artists from Studio Channel Islands.
For its 2017/2018 Season, New West Symphony partnered with Studio Channel Islands to create unique artwork inspired by the concert selections, and to be displayed on concert program covers for the entire season. Six artists were selected, who in addition to creating beautiful artwork, also donated their art pieces to be auctioned off at this event, to benefit both New West Symphony and Studio Channel Islands.
The "Meet The Artists" Special Event is an opportunity to hear from the visual artists who created the gorgeous and compelling artwork for the Symphony's program covers last season, to learn about the music and artists in the New West Symphony's upcoming 2018/2019 Season, and to meet fellow art and music lovers in our community.
A silent auction for the artists' cover artwork will be underway, so here's your chance to take home artwork that represents your favorite concert and music from last season. View the six art pieces from last season's concerts! >>
Or RSVP by phone or email: (805) 497-5800 or jbaker@newwestsymphony.org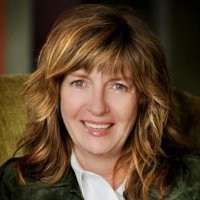 Rebecca Madigan
New West Symphony Marketing Director, host
Rebecca Madigan is host of the New West Symphony's "Meet the Artist" events held every concert week throughout the Symphony's regular season. Rebecca is known for her enthusiasm, relatability, and humor in her engaging interviews with guest artists and guest conductors. Prior to joining New West Symphony in October 2016, Rebecca had an extensive career in marketing, as an entrepreneur, and as a nationally recognized public speaker. Rebecca briefly majored in music and toyed with the idea of a vocal music career before determining that her place in classical music is as a super-fan.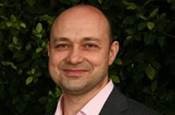 Sasha Gurevich
New West Symphony General Manager, violist
As General Manager of New West Symphony, Sasha is responsible for all aspects of orchestra operations and concert production, as well as general management of the Symphony's facilities. Gurevich was previously an artist manager at Jonathan Wentworth Associates Ltd, a leading artist management company in New York representing world-class performing artists with a main focus working with orchestral soloists and developing a roster of conductors for the agency.
Sasha holds a Bachelor of Arts degree from the Manhattan School of Music an a master's degree in viola performance from the University of California Santa Barbara. He also completed advanced studies in viola performance at the University of Southern California.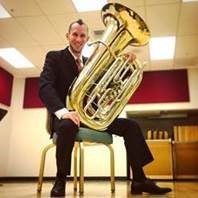 P. Blake Cooper
New West Symphony Principal Tubist
In addition to being Principal Tubist of the New West Symphony, Dr. P. Blake Cooper has also had the honor of performing as guest tubist with orchestras such as the Los Angeles Philharmonic, San Diego Symphony, Santa Barbara Symphony, San Bernardino Symphony, San Luis Obispo Symphony, Downey Symphony, among many others. Since 2010 Blake has taught as the Brass Faculty Head and Wind Ensemble Director for the Los Angeles Philharmonic's premier El Sistema-inspired teaching site, Youth Orchestra LA, a partnership between the Los Angeles Philharmonic and Heart of Los Angeles Youth, known locally as YOLA @ HOLA. Dr. Cooper also serves Bard College as a Field Supervisor for the MAT program where he enters the public school to observe, coach, and evaluate MAT students in the classroom as they work toward their single-subject K-12 teacher credentialing in music.
Dr. Cooper holds a bachelor's degree from the University of Kentucky in music education with emphases in both jazz bass and tuba performance, a Master of Music degree in tuba performance from the University of Texas at Austin, where he served for two years as the Graduate Teaching Assistant in applied tuba and euphonium. Blake them moved west to attend the University of Southern California where he earned a Doctor of Musical Arts in tuba performance with emphases in music education, jazz bass, and instrumental conducting.